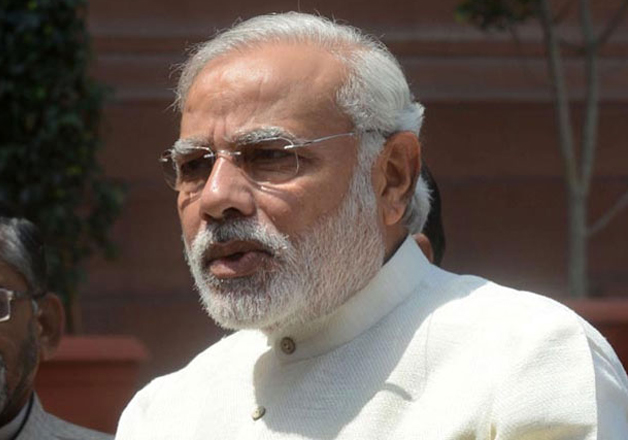 Deeply pained by the ongoing unrest over Cauvery River water sharing dispute between Karnataka and Tamil Nadu, Prime Minister Narendra Modi today appealed to the people of both states to maintain peace and 'display sensitivity' and 'keep in mind their civic responsibilities'.
He also urged for solutions to the conflict arising out of the Cauvery water dispute.
"The situation that has emerged in Karnataka and Tamil Nadu, as a fallout of the issue of distribution of the waters of the Cauvery River, is distressful. I am personally pained at the developments. Violence cannot provide a solution to any problem. In a democracy, solutions are found through restraint and mutual dialogue," he said.
He stressed that this dispute can only be solved within the legal ambit. 
"Breaking the law is not a viable alternative. The violence and arson seen in the last two days is only causing loss to the poor, and to our nation's property," he said.
"Whenever the country has faced adverse circumstances, the people of Karnataka and Tamil Nadu, just like people across the country, have always handled the situation with sensitivity. I appeal to the people of the two States, to display sensitivity, and also keep in mind their civic responsibilities," he added.
"I trust you will keep national interest and nation building above all else, and give priority to restraint, harmony, and finding a solution, eschewing violence, destruction and arson," he further said. 
Protests continued in parts of Karnataka for the second day with Bengaluru Police imposing Section 144 of the CrPC.
Though schools, colleges, government and private offices and banks have holiday for Eid fest, several IT firms and back offices, which are working, advised their employees to work from homes in view of the simmering tension across the city.
Shops, markets, malls, hotels, eateries and commercial establishments are observing an undeclared shutdown across the city due to fear of being attacked by protesters. Buses, taxis and three-wheeler auto-rickshaws are also off the roads, while metro rail service has been suspended till late evening.
Hundreds of passengers alighting at railway stations in the city and at the airport on the outskirts had a tough time in reaching homes or workplaces in the absence of taxis, autos and buses.
A Rapid Action Force platoon staged a flag-march in the city's north-west suburb to instil confidence in the people that the situation is under control.
One person, identified as 25-yr-old Umesh, died when police fired to disperse a mob attempting to torch a patrolling vehicle after ransacking a provision shop in the city's northern suburb.