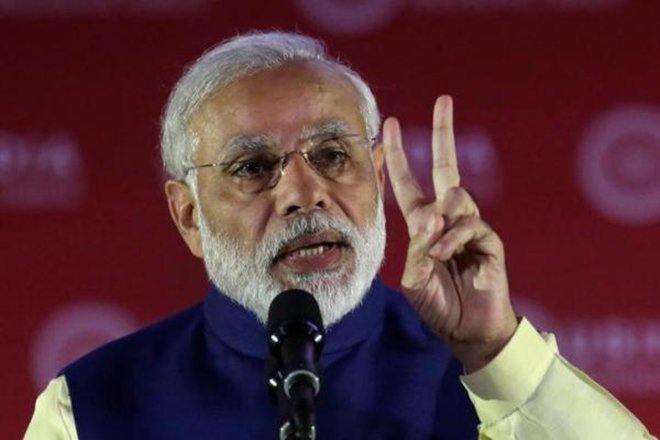 Prime Minister Narendra Modi today addressed a public rally in Dehradun today.
The prime minister  also laid foundation stone of the 900-km CharDham highway project and said that the state of Uttarakhand won't have to wait for development anymore.
PM Modi posted a series of tweets to inform people about his today's programme. "Will visit Devbhoomi Uttarakhand today for the inauguration of a key infrastructure project, the Char Dham highway development programme."
Here are the Highlights
Times are changing now and so is the attitude and approach of the people. This country will also change for the better, says PM Modi.
It is only because of the support I receive from the 125 crore Indians that I am able to take steps forward for eradicating corruption: PM Modi
​In one stroke fake notes, terrorism, human trafficking, drug mafia were dealt with after #demonetisation announcement on Nov 8
I know you have faced a lot of inconvenience but despite that the nation came forward to fight against corruption: PM Modi
Ye safaai abhiyaan hai. Deshwasiyo ne meri madad ki.Agar deshwasiyo ka saath na hota to ye log pta nahi kya kar dete:PM Modi 
Hum note ghar mein jamaa karne walon ke khilaaf ladai lad rahe hain. Yeh paise wapas aana chahiye ki nahi?: PM Modi 
Mujhe PM ribbon kaatne ke liye banaya hai?Aapne mujhe chowkidar ka kaam diya hai,Mai chowkidari kar rha hu to kuch log pareshan hain-PM Modi
Humne faisla kar liya, varg 3 aur varg 4 mei interview nahi kiya jayega; jiska merit hoga, usko naukri zaroor mil jayegi: PM Modi​
We had said that corrupt ppl will be punished and now this is happening; This is a 'Safai Abhiyaan' and people of India have helped me: PM
It is not just Black money, but also the black (corrupt) mind that has spoilt the nation. Both should go, says PM Modi.
My Govt took the initiative & said that we will electrify villages within 1000 days. Over 12,000 villages have already been electrified
OROP ka budget lagta hai Rs 10,000 cr se jyada, yeh Rs 500 cr dal ke (by Cong) humare desh ke jawaano ki ankh mein dool jhokna nahi hua?-PM

— ANI (@ANI) December 27, 2016
It has been so many years since our country got Independence, but unfortunately there is still no electricity in atleast 18,000 Indian villages: PM Modi
Tourism is the biggest asset of Uttarakhand. If facilities are provided in a proper manner then which family in the country would not want to come here, asks PM Modi
​
My Army jawans were demanding OROP for the last 40 years, the party that ruled the country then never thought of their demands: PM Modi pic.twitter.com/u7nonWOFZT

— ANI (@ANI) December 27, 2016
We were clear that from Day 1, our Jawans must get their due; We said #OROP will be a reality: PM Modi
Hasty conception of schemes may be able to give short term political gains but the gains for people will be limited, PM Modi says
I salute my Army jawans. Rs 6600 crore have already been disbursed under OROP and rest will also be disbursed at the earliest: PM Modi pic.twitter.com/ivVSqJO9JP

— ANI (@ANI) December 27, 2016
The days are gone when the common man could be fooled; the public now understands everything
The governments in my country were such that they couldn't even provide the most basic facilities to the 125 crore Indians, but the time has changed now: PM Modi
PM on the inauguration of Char Dham project.