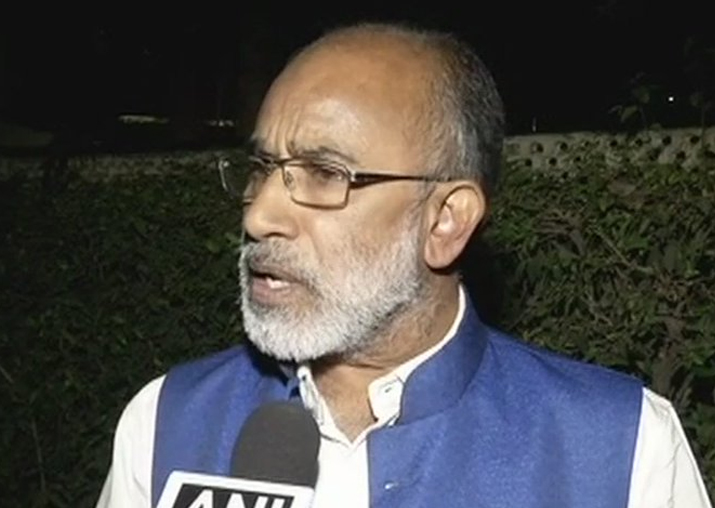 A purported video of a passenger arguing with Union Minister KJ Alphons at the Imphal airport has surfaced in which the former can be seen holding the minister responsible for delay of a flight.
The passenger said that she had to attend a funeral in Patna, but the flight was delayed due to VIP movement.
"I have to reach Patna. The body is waiting, otherwise the body will decay. I am a doctor, I know that. The body is still at home," a woman can be heard pleading with Alphons, who maintains his calm.
The Union Minister, however, rubbished the reports that he was responsible for the delay. He said that President Ram Nath Kovind was scheduled to arrive to the Manipur capital to inaugurate the Northeast Development Summit and several Union ministers too were participating in it. 
He said that the VIP movement was put in place due to the President's arrival.
According to Alphons, he approached a woman crying at the airport.
I don't think there is any controversy at all. I saw this lady in distress & I went up to talk to her, she said she has to attend a funeral in Patna,
I told her that there is a protocol when President is landing no flight can take off: KJ Alphons on Imphal Airport incident pic.twitter.com/8hWG3azhq4

— ANI (@ANI) November 22, 2017
"She was crying and I wanted to know what happened. She started saying that she had to go to Patna to attend a relative's funeral which was scheduled in the afternoon. She was distraught because her flight was delayed and she feared the body will decay. As a representative of the government of India, she wanted me to intervene," Alphons said.
An official at Imphal airport said that three flights were delayed because of VVIP movement as the President's flight was scheduled to arrive. Air traffic was affected for nearly two hours.
The Union tourism minister was accompanied by Commerce Minister Suresh Prabhu, Aviation Minister Jayant Sinha and senior BJP leader Ram Madhav.
"I can understand her anguish but as I told her, the President's flight was landing and as per protocol no other flight can land or take off at that time. This protocol is in place for the past 70 years and not made by this government. I tried to tell her that her flight will leave as soon as the President's flight lands, but she was really in distress," Alphons said.
The minister also said that he "was not in favour" of protocols that encourage VIP culture and that he has also informed officials that a pilot jeep should not be assigned for him.