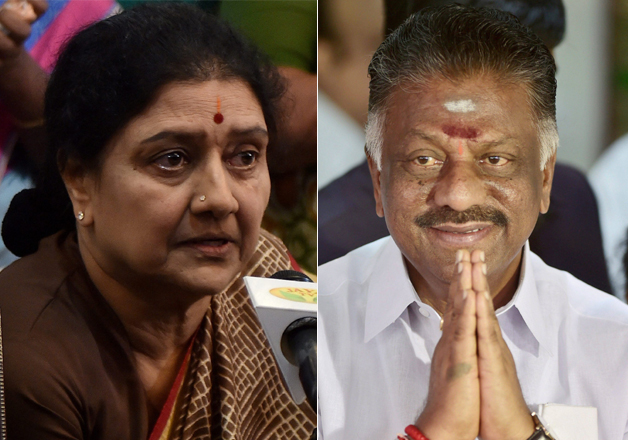 Tamil Nadu's caretaker Chief Minister O Panneerselvam has demanded immediate release of 129 MLAs who are 'held captive' in a private resort near Chennai by AIADMK supremo and CM-designate Sasikala.
Speaking to reporters here on Sunday, Panneerselvam said that legislators should be released and they should meet people in their respective constituencies to get a sense of the public mood.
"Let her (Sasikala) release them...so that they can go to their respective constituencies and meet the people and take a good decision," Panneerselvam said.
Stressing that the Tamil people were well aware of the current political scenario, he said, "Not only in India, people across the globe are monitoring the situation."
Noting that he was working as per his conscience, Panneerselvam said that he did not invite any of his Cabinet colleagues when he had gone to meditate at Amma's (Jayalalithaa) memorial last week after which he said that he was forced to quit from the Chief Minister's post.
Asserting that he was always a staunch loyalist of Jayalalithaa, Panneerselvam said, "In the last 20 years not even once has Amma criticised me."
He further said that the election schedule for electing the party's general secretary will soon be announced. The AIADMK leader also reiterated his claim that interim general secretary Sasikala does not have the power to admit or dismiss anybody from the party.
On whether the administration had come to a standstill due to the ongoing crisis, he said that 'it was not true as he has been meeting government officials everyday'.
"Every day I am in touch with the officials. Day before yesterday, the Chief Secretary and DGP met me and we discussed several issues. Tomorrow, I'm going to the Secretariat," he said.
He said Deepak and Deepa, the niece of late leader J Jayalalithaa, were the only blood relations of Jayalalithaa. "When Amma's mortal remains were in the hospital on the night of December 5, she was not allowed to pay her respects even at that time."
To a query on the assets of Jayalalithaa, he recalled it was her wish that all her assets go to the party.
On a query as to how confident he was about forming the government, he said, "When the Assembly convenes, I will prove my majority there."