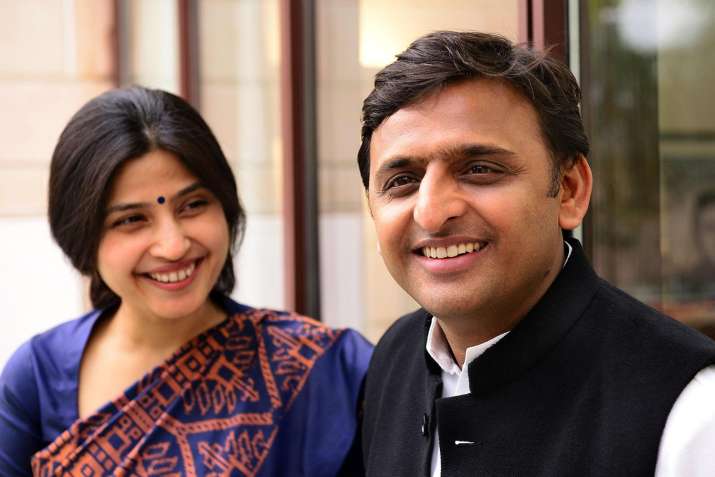 Praising Dimple Yadav for her support during the family-feud in Samajwadi Party involving his father and uncle, Uttar Pradesh Chief Minister Akhilesh Yadav today said that in difficult times, a person can only rely on his wife. 
"Who else can you trust or believe in such difficult times? Only your wife can stand by you in such a crisis. Such phases come in everyone's life when some hard decisions have to be taken," Akhilesh Yadav told Hindustan Times in an exclusive interview.
Responding to a question on the rationale behind SP-Congress alliance, Akhilesh pointed out that Dr Ram Manohar Lohia had once said that when the Congress would be at its weakest, it would be closest to the Samajwadis.
"The Congress is weak and we have joined hands to defeat communal forces. We are good friends, we both have compromised during seat-sharing. This happens in election and politics," Akhilesh told HT.
Taking a jibe at Prime Minister Narendra Modi for claiming that he was an adopted son of UP, Akhilesh said, "The Prime Minister says he was called by Ganga maiya and he is UP's adopted son. We will ask the people when will they adopt us or accept us as their sons and give us an opportunity to serve the state. In a democracy, people give power to you and they punish those who hurt them."
Criticising the 'demonetisation' move of PM Modi, the UP Chief Minister said that it created huge problems for common man.
"I have always said money is never black or white but transactions are. Instead of demonetisation, the Centre should have educated the people about such transactions," he said.
Akhilesh exuded confidence over forming the next government in the state and claimed that the SP was far ahead of its opponents like BSP and BJP after second phase of polls.
"After second phase of the polls, we are far ahead of our opponents. The BSP is trying to convince it will not build more statues, the PM is raising thana-level issues while we have implemented the best possible system to improve law and order -- Dial 100," he added.