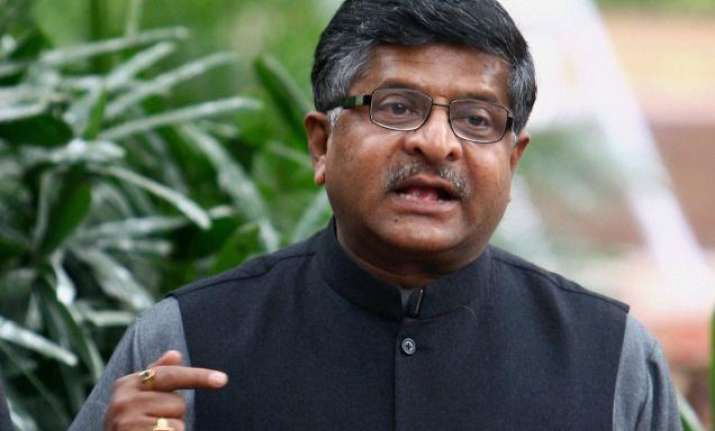 Union minister Ravi Shankar Prasad today clarified that the government has no plan to impose tax on farmers for their produce.
Addressing a rally in Nainital as part of the BJP's ongoing 'Parivartan Yatra', Prasad also said that the central government does not intend to tax woman for their jewellery as well.  
He added that the country was moving towards a cashless economy under the leadership of Prime Minister Narendra Modi whose demonetisation move had made the rich bow to poor for the first time in the country.
"Income tax wouldn't be imposed on farmers, neither is there any plan to impose tax on jewellery. All sorts of rumours are being spread to mislead people. But they should pay no attention to the rumours," the Law and IT Minister said. 
"We are moving towards a cashless economy under the leadership of Modi and demonetization is a step in that direction," he said. 
Addressing the crowds, Prasad appealed to the public to maintain their patience and trust the government and not be influenced by any rumours. He said that no new taxes would be implemented on farmers and no new laws or taxes will be framed in relation to gold.
Prasad clarified that the step towards demonetization was taken to make the Indian currency stronger and to eliminate black money from the market. He said that the general public was supporting the decision and it was only the opposition which had a problem with it. 
Even leaders across the globe have praised the move, he said. Prasad further accused the opposition of diminishing the morale of the Army. He said that while the families of the soldiers who died were happily willing to send their children in the Army, it was the opposition which was interfering with the Army. 
Prasad said that in the past two-and-half-years of the party rule, no minister has been accused of any corrupt practices while this was a trend during the Congress regime. 
Those present at the meeting included Bhagat Singh Koshyari, MP; Balraj Passi, coordinator Parivartan Rally and Ajay Bhatt, state BJP president.
(With PTI inputs)