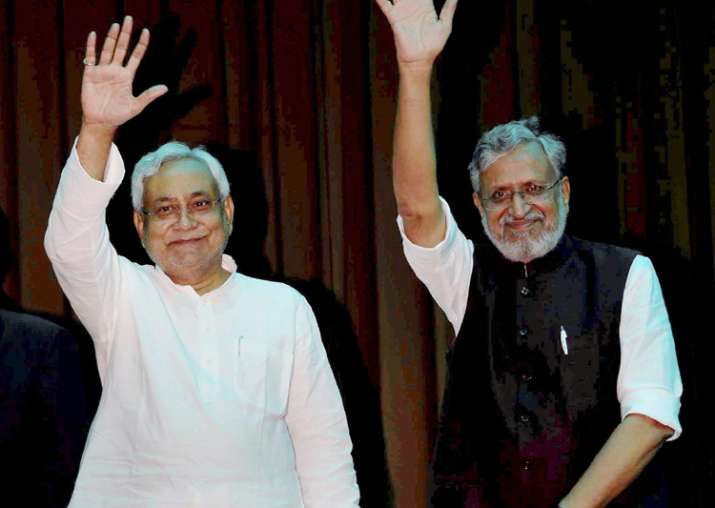 A day after winning the trust vote, Bihar Chief Minister Nitish Kumar today expanded his Cabinet, inducting 27 ministers - 14 from his Janata Dal (United) and 13 from the BJP-led NDA. Governor Keshari Nath Tripathi administered the oath to 26 new ministers at the Raj Bhawan. One BJP legislator, Mangal Pandey, failed to take oath as he was held up in Shimla in Himachal Pradesh due to bad weather. However, he was administered the oath seperately at 8:30 pm. 
In the 243-member House, a maximum of 37 ministers are allowed as per the constitutional provisions.
Nitish refused to induct ministers from two allies of the NDA in his cabinet -- Rashtriya Lok Samta Party (RLSP) of Union Minister Upender Kushwaha and Hindustani Awam Morcha (HAM) of former CM Jitan Ram Manjhi. Nitish informed BJP leaders that he would keep the two parties out of the government.
Besides the 14 ministers from JD(U), 12 ministers are from the BJP and one from its ally LJP. They are: 
JD(U): Shrawan Kumar, Bijendra Prasad Yadav, Madan Sahni, Santosh Kumar Nirala, Khurshid alias Firoz Ahmad, Kumari Manju Verma, Maheshwar Hazari, Shailesh Kumar, Jay Kumar Singh, Krishna Nandan Prasad Verma, Kapil Dev Kamat, Dinesh Chandra Yadav, Rajiv Ranjan Singh alias Lallan Singh
BJP: Nand Kishore Yadav, Vinod Kumar Singh, Prem Kumar, Krishna Kumar Rishi, Rana Randhir Singh, Suresh Kumar Sharma, Vijay Kumar Sinha, Vinod Narayan Jha, Pramod Kumar, Ram Narayan Mandal, Ramesh Rishidev, Brij Kishor Bind, Mangal Pandey
​LJP: Pashupati Paras. He is Ram Vilas Pawan's brother. He is neither an MLA, nor an MLC.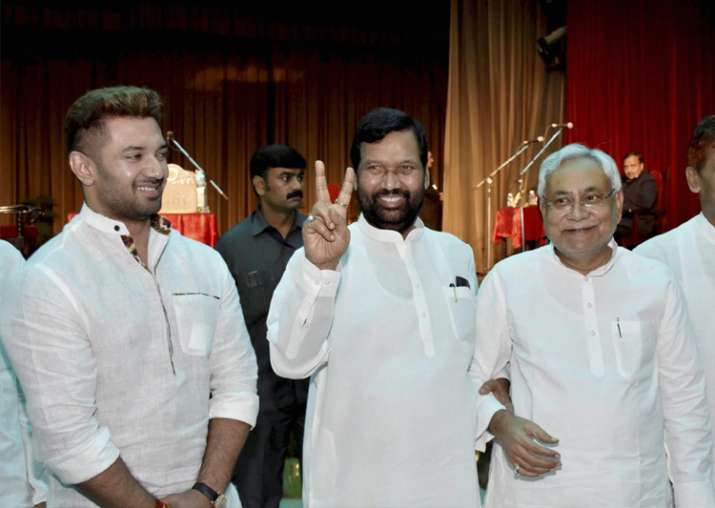 The JD(U) has inducted most of those from the party who were ministers in the previous Grand Alliance government, to avoid any controversy. On the other hand, the BJP named those as ministers who are considered close to Deputy Chief Minister and party leader Sushil Kumar Modi.
Manjhi, sensing trouble from Nitish, on Friday itself said that he was not keen to join the Cabinet and would work to strengthen his party. Nitish has not forgotten how Manjhi had betrayed him when he was appointed CM in 2014 by him. Manjhi had lobbied with the BJP to induct three leaders of his party into the Cabinet after it was decided that Pasupati Kumar Paras from the LJP will be inducted in the Cabinet. 
Paras is the younger brother of LJP chief and Union Minister Ram Vilas Paswan. Paras is not a member of the legislative assembly. He was defeated in the 2015 assembly polls. Paswan is said to have put pressure on the BJP to induct him in the cabinet.
"Manjhi reportedly told BJP leaders that if Pasupati Kumar Paras can be inducted in the cabinet despite the fact that he is not a legislator, then his party leaders should also be inducted on the same lines," a BJP leader said. Manjhi is the lone legislator of his party.
JD(U) leaders said that Nitish has strong reservations against Upender Kushwaha, who had repeatedly attacked and targeted him in the last three years. Kushwaha is a friend-turned-foe of Nitish Kumar in the state politics.
"Nitish Kumar does not like Upender Kushwaha. When he proposed the name of one of his party legislators to be inducted in the cabinet, Nitish Kumar said no to it," another JD(U) leader said.
Besides Kumar, Sushil Kumar Modi, LJP chief Ramvilas Paswan and the Speaker of the Bihar Assembly Vijay Kumar Choudhary attended the swearing-in function.
Nitish had on Wednesday resigned as the Chief Minister, dumping Grand Alliance partners Rashtriya Janata Dal and the Congress. He again took oath as the Chief Minister with the support of the National Democratic Alliance on Thursday. Senior BJP leader Sushil Kumar Modi took oath as Deputy Chief Minister.