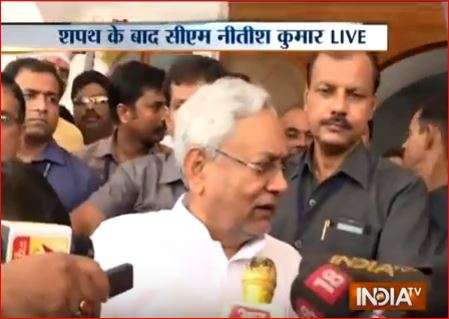 After taking oath as Bihar Chief Minister for sixth term today, Nitish Kumar said that he decided to part ways with the RJD and join hands with the BJP in the interest of the state. 
Nitish Kumar also added that his decision will ensure  development of the state with justice. 
"As I said yesterday, whatever decision we have taken will be in the interest of Bihar and of its people. It will ensure development with justice. It will also ensure progress. This is a collective decision. I would assure the people of Bihar that our commitment is to the people of the state," Nitish Kumar told media persons.
" We tried to serve the people of the state to the best of our abilities in the past and we will continue to do so in the future," he added.
When asked to comment on Rahul Gandhi's allegations that he betrayed both Congress and Bihar by deciding to join hands with the BJP, Nitish Kumar said that he will respond to the charges at an appropriate time. 
Nitish Kumar resigned from the CM post Wednesday evening after a fall out with the alliance partner RJD over corruption charges against Lalu Yadav and some of his family members, including son Tejashwi, who was the then deputy CM. 
Kumar was sworn in as the chief minister of the state along with senior BJP leader Sushuil Kumar Modi, who will be his deputy in the new government, at the Raj Bhawan in Patna today.