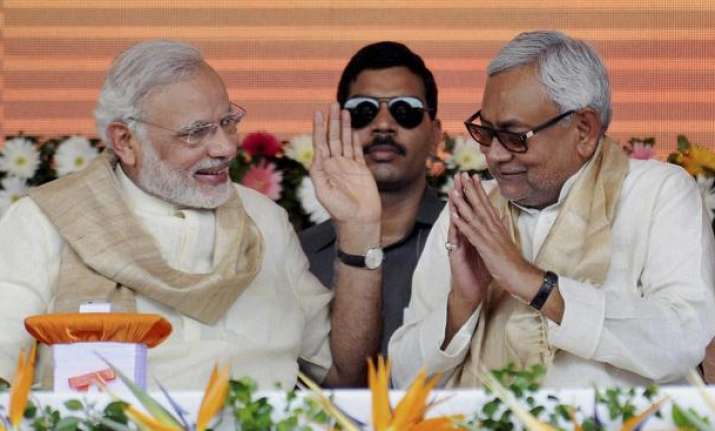 Bihar Chief Minister Nitish Kumar today said that there was no leader present in Indian polity today who can take on the popularity of Prime Minister Narendra Modi in the upcoming Lok Sabha elections in 2019. Nitish was responding to a question at a press conference in the national capital where he put down his views in detail about the happenings in the past few days that saw him break ranks with the Rashtriya Janata Dal and Congress, which were part of the Grand Alliance he led in Bihar, and his return the CM within 48 hours under the NDA fold.  
Reiterating his stand on breaking ranks with the RJD, Nitish today said that he had no option but to quit the alliance in view of the allegations of corruption against his former deputy Tejashwi Yadav and the absence of any explanation on it by the leaders of the RJD. Addressing the media, Nitish said that there were many roadblocks that came along the way but he chose to ignore all of it in view of continuing the alliance.
"I didn't have a choice, tolerated everything. I thought this happens in alliance and continued to work," the Bihar CM said. "I had asked to explain the corruption allegations, had they done that, situation could have been different," he said in reference to his party's stand against corruption. Nitish said he had spoken to Tejwashwi and asked him to come clean on the allegations against him. 
Nitish said he had even put this view before the RJD supremo, but failed to get a convincing response from him. "I spoke to Lalu many times. I told him that we need a clarification from Tejashwi in this case and that doing so will have an impact," he said.  
"Even Lalu did not give any clarification on corruption charges; how could I remain silent as I talked about zero tolerance on corruption," Nitish added.
The Chief Minister also narrated the sequence of events that transpired following the CBI filing an FIR against Tejashwi and sought to deny the allegations of being hand-in-glove with the BJP all along. "There was a lot that has been said about me. Look at the sequence of events and tell me where I am wrong. How could I have planned this in advance," he said.
Nitish also targetted Lalu and said he had made objectionable statements against the alliance as well. "RJD made objectionable statements against grand alliance; none from JD(U) said anything against RJD's supreme leader," he said.
"When (CBI) raid happened first, BJP was congratulated about new ally through tweet then explained within 40 mins, but what was its impact?" he said, referring to the RJD supremo Lalu Prasad Yadav's tweet hours after the CBI raids.
"BJP ko naye alliance partners mubarak ho. Lalu Prasad jhukney aur darney wala nahin. Jab tak aakhri saans hain fashiwaadi takhto ke saath lartha rahunga (Congratulations to BJP on its new alliance partners. Lalu will continue to fight fascist forces till the last breath)," Lalu had tweeted.
When questioned over the dissatisfaction of former party chief and party veteran Sharad Yadav over his decision to ally with the BJP and with the government, Nitish said it was a decision by the state unit of the JD(U).
"The Election Commission recognises JD(U) only in Bihar. It was a decision by the state unit of the party. The party will hold a meeting of its National Executive on August 19 and people will be free to put up their views. Democracy allows free expression of views and I have no problems with it," he added.