Follow us on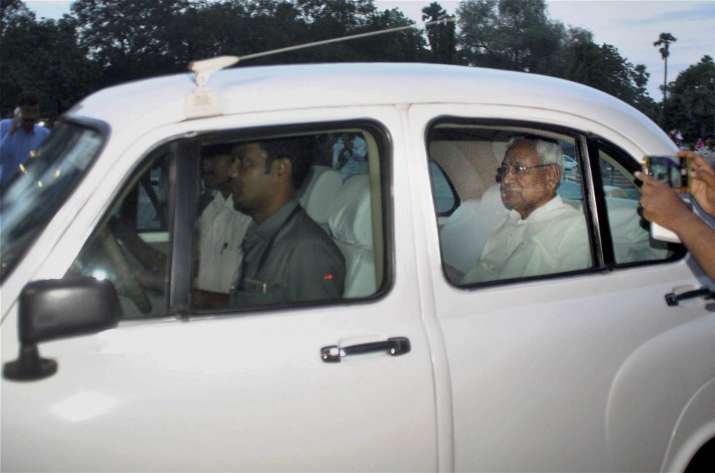 Nitish Kumar on Wednesday dropped a bombshell when he submitted his resignation to Governor Keshri Nath Tripathi, exiting the 'mahagathbandhan' and coming back to the NDA fold, four years after he exited the alliance. Soon after his resignation, the Bhartiya Janata Party (BJP) declared its support to Nitish Kumar and announced that it will form a coalition government the politically crucial state that could have a bearing on the 2019 Lok Sabha polls. 
Nitish had joined hands with his arch rival and RJD chief Lalu Prasad Yadav after humiliating defeat in 2014 Lok Sabha elections. Kumar, 66, had led the 'Mahagathbandhan' (Grand Alliance) that comprised his JD(U), the RJD and the Congress to a stunning victory in 2015 Assembly elections. Kumar, who first became chief minister on November 24, 2005, was sworn in for a fifth term on November 20, 2015. 
Here is how political leaders reacted to the fast-paced developments in Bihar: 
Narendra Modi, Prime Minister
Congratulations to Nitish Kumar ji for joining the fight against corruption. 125 crore people are welcoming and supporting the honesty. It is the need of the hour and also the country's demand to rise above political differences to unite and fight against corruption for the bright future of the country and Bihar.
Randeep Surjewala, Congress
We are deeply disappointed by the news of resignation of Bihar chief minister Nitish Kumar. We, in the Congress party, particularly Congress president (Sonia Gandhi) and party vice president (Rahul Gandhi) have great respect and affection for Nitish Kumar.
The 'Mahagathbandhan' was given a five-year mandate by people of Bihar based on the policies, principles and cumulative leadership that was presented. It was also a mandate against the BJP and Prime Minister Narender Modi, who challenged the honour of Bihar, he said. Responsibility lies up on each one of us to respect this mandate. The Congress party will do everything within its means (to see to it) that this mandate is honoured. Any differences of opinion that may have cropped up we will try and sort them out by speaking to each other in an amicable and cordial fashion.
K C Tyagi, JD (U)
He is a man of different metal, he had already taken resignations of his own ministers on the issue of corruption. The party and Kumar cannot compromise on this issue. There were expectations from Rahulji as he had torn the ordinance (protecting convicted lawmakers from immediate disqualification)..., but somehow Gandhi forgot that.
Atul Kumar Anjaan, CPI
Now, there should be no underhand dealing after what the BJP did in Manipur and Goa. The BJP has broken the public mandate in Bihar in its own style. We demand elections be held afresh in the state.
Omar Abdullah, National Conference
Thus reaffirming that in politics there are no permanent friends & no permanent enemies, just marriages of convenience. That said the tie up between Nitish & Laloo was no less a marriage of convenience at the time. That's the way politics works.
Manohar Lal Khattar, Haryana Chief Minister 
If Nitish Kumar has resigned, then he must have done it after due consideration.