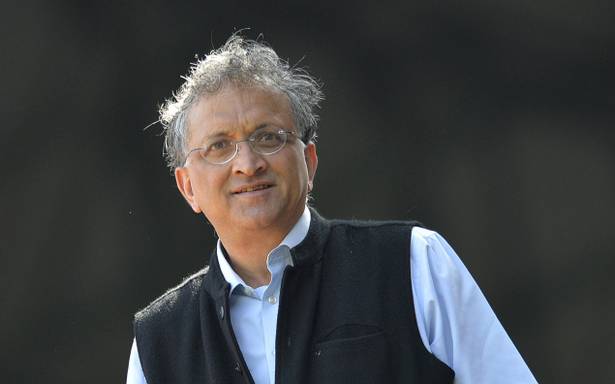 One can trust noted historian and intellectual Ramachandra Guha to think out of the box -- and set the cat among the pigeons in the process. He has now called for a massive change in Congress leadership, suggesting, in jest, that the party can only regain its prominence by projecting Bihar Chief Minister Nitish Kumar as the face of the United Progressive Alliance (UPA). 
Known for his sharp comments against the Congress, Guha at the 10th anniversary celebrations of his book "India After Gandhi: The History of the World's Largest Decomcary", said India's oldest political party was without any leader and that there is little chance of its revival under the present dispensation. 
"Nobody has got any doubts that the Congress is not going to rise again any time soon. Two years (to the next Lok Sabha election) is a long time in politics. If you get away with the Gandhi family in the leadership and if the Congress has a new leader, things can change. 
"There is a genuine leader in India. That is Nitish Kumar. He is a leader without a party, the Congress is a party without a leader. If Congress gives him a chance to lead the UPA, it might have a future," Guha maintained. 
The UPA was in power for two terms from 2004 to 2014 before being ousted by the current Bharatiya Janata Party-led National Democratic Alliance, with Narendra MOdi, then the Gujarat Chief Minister, leading the charge. 
Guha, who was in conversation with journalist Barkha Dutt at the event organised by Pan MacMillan India on Tuesday evening said that like Prime Minister Narendra Modi, Nitish Kumar too is a leader without a "family burden" but unlike Modi, he is not a "megalomaniac". 
Guha also reiterated that single party dominance in a democratic country like India is not good as it makes a leader more authoritative. 
"There is a problem with single party dominance; it made even the great democrat Jawaharlal Nehru unpersuasive, it made the instinctively authoritative Indira Gandhi more authoritative. So what single party dominance would do to Narendra Modi and Amit Shah I have started to think (about)," Guha noted. 
"Forty years of Left rule in West Bengal was a disaster, 25 years of BJP rule in Gujarat is a disaster. We are in the 70th year of Independence and have failed in emulating a stable two party module of western democracy," he added.