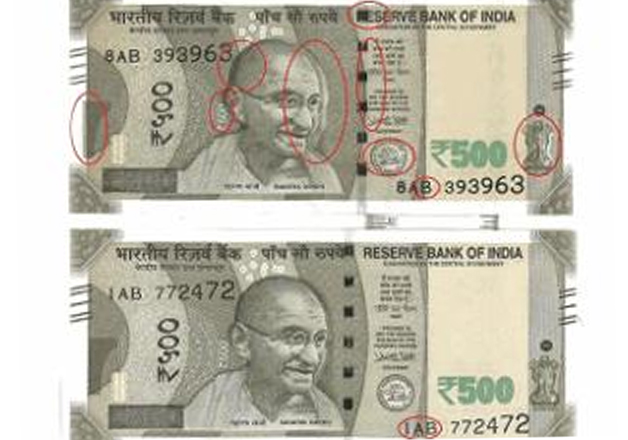 In a major embarrassment for the central government, it has now come into light that new Rs 500 note have several defects.
According to reports, two variants of Rs 500 note has surface in the market. 
In one of the variant, there is a more than visible shadow of Mahatma Gandhi's face.
Also the space between security thread and RBI logo on both the variants are different. Besides, the alignment space with the national emblem has more gaps.  
The size of the borders of the notes are said to be different. Besides, the notes are also said to be different in colours, with one being of a lighter shade. 
The Reserve Bank of India (RBI) admitted defects in the new Rs 500 notes, saying 'the printing defect was due to rush'.
 

It, however, added that there is 'nothing to panic' in this and that all transactions are legal.

 
"It is likely that due to current rush, notes with printing defect must have released. But there is nothing to fear or panic. These notes could be used in transaction by public or in case could be returned to RBI," a RBI spokesperson said. 
The development comes two weeks after the circulation of new notes. The notes were pumped into economy following November 8 demonetisation decision to fight black money and counterfeiting. 
Experts said that multiple variants of the legal notes in the economy will create confusion as people will not accept Rs 500 notes. 
When the Rs 500 notes were pumped into the economy, it was said that it will be next to impossible for Pakistan to replicate the feature of the new notes because of its security characteristic.
Reports had claimed that the RAW, Intelligence Bureau and the DRI had examined the features on the notes being secretly printed for the past six months.