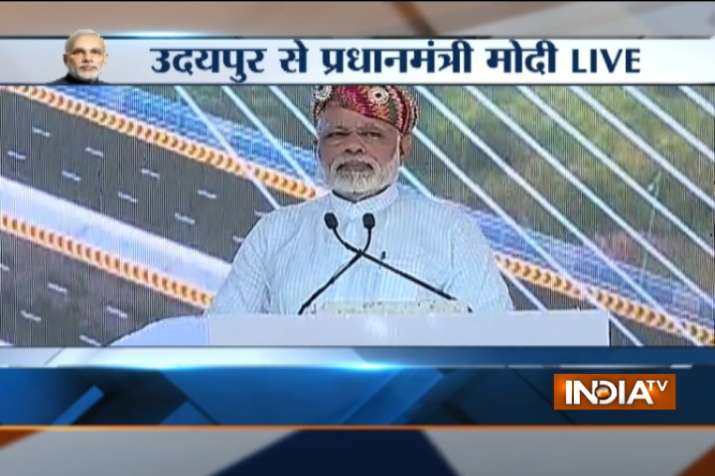 Prime Minister Narendra Modi today inaugurated several developmental projects worth over Rs 15,000 crore in Rajasthan's Udaipur. PM Modi  inaugurated 11 completed National Highway projects and laid foundation for six National Highway projects, covering a distance of about 556 km.  The prime minister also addressed a public rally in Udaipur. The prime minister will also visit the Pratap Gaurav Kendra that showcases life and achievements of Maharana Pratap, the legendary king of Mewar. 
LIVE UPDATES on Narendra Modi's Udaipur visit:
02:26pm- PM Modi is scheduled to inaugurate infrastructure projects worth Rs 9,000 crore including the hanging bridge in Chambal.
02:25pm- PM Modi concludes his speech
02:21pm- I'll urge the state government to run a 15 day campaign to add micro and small businessmen to connect with GST for all-round development: PM Modi
02:20pm- GST has helped in reduction of transport cost and increased the earning of drivers of trucks, tractor trolleys in the country: PM Modi
02:19pm- My government works for the poor; we have increased the scope, scale and skills of people: PM Modi
02:18pm- These roads are not only connecting Rajasthan and the nation, they are gateways to progress, says PM Modi
02:17pm- Tourism offers maximum employment with minimum investment: PM Modi
02:16pm- ​Tourism brings economic opportunities for the locals: PM Modi
02:15pm- Rajasthan is known for its tourist destinations world over, says PM Modi
​02:14pm- Good roads will help Rajasthan in particular. Tourism will get a big boost due to a strong roads network in the state: PM Modi
​02:13pm- Better roads will help our farmers immensely. This is one of the reasons why Atal Ji dreamt of a strong roads network across India: PM Modi
​02:12pm- Infrastructure is important for taking India to newer heights: PM Modi
02:10pm- Some projects are kept pending even after inauguration. Our focus is timely completion of projects. We will complete all projects that we will inaugurate: PM Modi
02:00pm- My govt is with flood victims of Rajasthan, says PM Modi
01:58pm- PM Modi begins his speech atUdaipur rally
01:02pm- PM Modi visits an exhibition on National Highway Projects in Udaipur; Rajasthan CM Vasundhara Raje and Union Minister Nitin Gadkari also present on this occasion
12:35pm- Rajasthan Governor Kalyan Singh, Chief Minister  Vasundhara Raje and others welcome the prime minister.
12:30pm- PM Modi arrives in Udaipur
​
Governor Shri Kalyan Singh, CM @VasundharaBJP and others welcomed PM @narendramodi to Udaipur. #ModiAtUdaipur #RisingRajasthan pic.twitter.com/CZUWAAqJrU

— PMO India (@PMOIndia) August 29, 2017