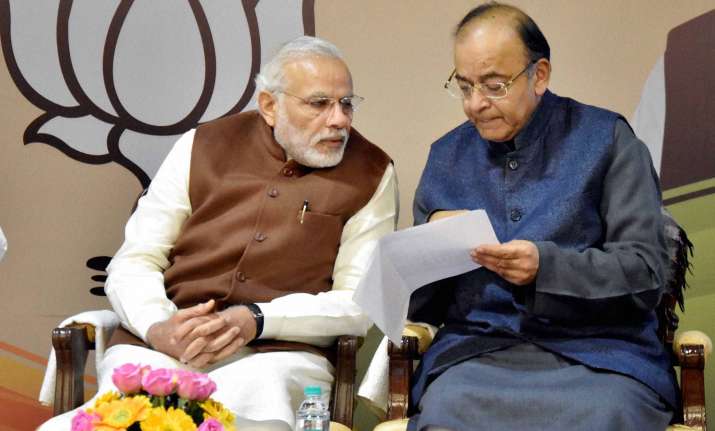 Amid the mounting criticism of Centre's demonetsation move, Finance Minister Arun Jaitley today hit out at Congress vice-president Rahul Gandhi saying while "Prime Minister Narendra Modi was thinking of the next generation Rahul Gandhi was only looking at how to disrupt the next Session of Parliament."
With doubts being raised about demonetisation eliminating black money, Jaitley said that colour of funds has not changed by merely depositing them in banks as the money has now lost its 'anonymity' and can be identified with the owner.
"The fact that large quantum of high denominational currency has been deposited with the banks does not render this money to be legitimate cash. Black money does not change its colour merely because it is deposited in bank. On the contrary, it loses its anonymity and can now be identified with its owner," Jaitley said in a Facebook post titled 'Demonetisation -- A look back at the last two months'.
Jaitley said that when 86% of a country's currency constituting 12.2% of its GDP, is squeezed out of the market and sought to be replaced by a new currency, there would obviously be significant consequences of that decision and added that the queues outside the banks have disappeared and remonetisation has moved ahead.
"The period of pain and inconveniences is getting over. Economic activity is being restored," he said.
Large amount of cash with banks will lead to lower interest rates, he further said.
Jaitley said demonetisation required both courage and stamina. "The implementation of the decision carried pain. It can lead to short-term criticism and inconveniences. Drop in economic activity on account of the currency squeeze during the remonetisation period would have a transient impact on the economy."
The comments follow reports about an estimated 97 per cent of junked notes getting deposited in bank accounts, thus casting doubts on the effectiveness of demonetisation move in checking the black money menace.
The Revenue Department, he said, would be entitled to tax this money. "In any case, the amendment to the Income Tax Act itself provides that the said money, if voluntarily declared or if involuntarily detected, would be liable for differential and high rates of taxation and penalty," he said.
Jaitley further said India suffers as "a hugely tax non-compliant society".
"In the year 2015-16, 3.7 crore assesses of the total population of over 125 crore, filed income tax returns.
"Out of these, 99 lakh declared income below Rs 2.5 lakh and paid no taxes; 1.95 crore declared income less than Rs 5 lakh; 52 lakh declared income between Rs 5 to 10 lakh, and only 24 lakh declared income above Rs 10 lakh.
"No better evidence is required to substantiate that both in the matter of direct and indirect taxes, India continues to suffer being a hugely tax non-compliant society," he said.
Jaitley said the expenditure required for poverty eradication, national security and economic development have to be compromised with on account of tax non-compliances.
He further said, "Tax evasion has been considered as neither unethical nor immoral. It was just a way of life.
Several Governments have allowed this 'normal' to continue even though this compromised with larger public interest.
"The Prime Minister's decision (of demonetisation) is intended to create a new 'normal'," he said.
The Finance Minister further said the move seeks to change the expenditure pattern of India and Indians.
"It is obviously disruptive. All reforms are disruptive. They change the retrograde status quo. The demonetisation puts a premium on honesty and penalises dishonest conduct.
"Excessive cash as a medium of exchange is favoured by the underground economy, resulting in non-compliance in tax payments. Mountains of cash money reach tax havens through the hawala route from the original paper currency," he added.
Jaitley further said that cash is the medium which funds bribery, corruption, counterfeit currency and terrorism.
Stating that ethical and developed societies aided by technology have consistently moved towards banking and digital transactions as against the excessive use of cash, he said that reducing cash may not eliminate crime and terrorism but it can inflict serious blow on them.
Jaitley highlighted the fact that there was "no social unrest" while implementing such a major decision to make his point that there was no opposition of the move by the public.
"All opinion polls conducted by independent media organizations have shown that an overwhelmingly large percentage of people have supported the Government's decision," he said.
In contrast, he said that political parties opposed the move and disrupted the Parliament.
" The opposition disrupted a full Session of Parliament. Their protests have been ineffective. Their exaggerated claims on the disruption of the economy have proved wrong. It is a tragedy that a national party like the Congress decided to adopt a political position, opposing both technology, change and reforms. It sided with black money friendly status quo," he said.
Drawing comparison between the approach of Modi and "his opponents," Jaitley said, "The Prime Minister was being futuristic, and thinking of a more modern, technology driven cleaner economy. He is now speaking of cleaning the political funding systems. His opponents want a cash dominated, cash generating and cash exchange system to continue."
"The difference between Prime Minister Narendra Modi and Rahul Gandhi was clear - the Prime Minister was thinking of the next generation while Rahul Gandhi was only looking at how to disrupt the next Session of Parliament," he said.