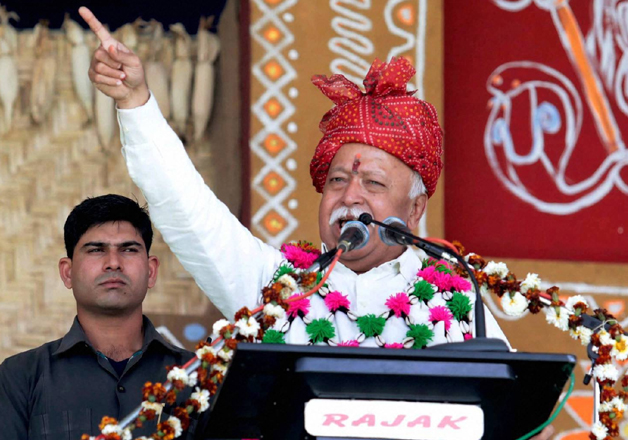 Rashtriya Swayamsevak Sangh (RSS) chief Mohan Bhagwat on Wednesday made a remark that is likely to court controversy. At an event in Madhya Pradesh's Betul district jail , Bhagwat said that 'Muslims born in India are Hindus by nationality'.
"Everyone born in the country is a Hindu -- of these some are idol-worshipers and some are not. Even Muslims are Hindus by nationality, they are Muslims by faith only," he said.
 

"Across the world Indian society is known as Hindu. All Bharatiya (Indians) are Hindus and we all are one entity," he added.

 
"Just as the English live in England, Americans in America and Germans in Germany, Hindus live in Hindustan," the RSS chief, who is on an eight-day visit to Madhya Pradesh, said.
"It is no surprise if members of Rashtriya Muslim Manch do an 'aarti' of Bharat Mata because they are Hindus... They may have become Muslims by faith but they are Hindus by nationality," he added.
Across the globe, he said, it has been stated that Bharat will become the world guru. "In such a situation we are accountable for the country. It is necessary for Hindus to remain united and bury their differences," he said.
Bhagwat visited Betul district jail and paid tributes to Sangh's ideologue late Madhav Sadashiv Golwalkar alias 'Guruji'. He visited barrack no. 1 of the district jail where Golwalkar was detained for about three months in 1949, after the organisation was banned following Mahatma Gandhi's assassination. 
However, the state Congress objected to Bhagwat's visit while terming it as violation of jail manual and an effort to glorify the member of the then banned organisation. 
"BJP is trying to glorify Golwalkar, who was detained as a member of a banned organisation then. This is also a violation of jail manual. Only the family members, friends of a prisoner can visit the jail premises with prior permission of jail management," Congress spokesman KK Mishra said.