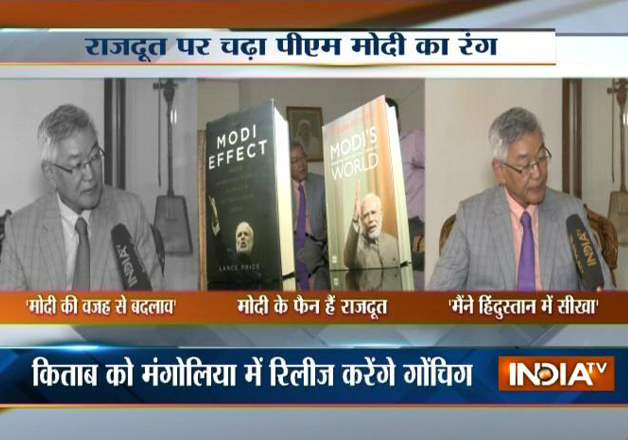 New Delhi: Prime Minister Narendra Modi's fan following is not only restricted to India but he is also popular among the people of Mongolia and several other countries.
Mongolian ambassador, Gonchig Ganbold, a die-hard fan of Indian PM, has translated a book on Narendra Modi, authored by British by Lance Price from English to Mongolian language. The book is - The Modi Effect: Inside Narendra Modi's Campaign to Transform India.
Speaking to India TV, Gonchig, who had met PM Modi for the first time in May 2015, said that there is a lot to learn from India and by translating this book he aims to tell the Mongolian people about how dedicated India's political leadership is.
"India is the biggest democratic country and there is a lot to learn from here. He is bringing changes… but not only one man can bring changes, everybody needs to work together to bring change. This book is very inspirational.. I want to tell people about the works he is doing," he told India TV in Hindi.
The book, he said, will be released soon in Mangolia.
Further he said that HRD Minister Smriti Irani told him about the meaning of his name and his parent's names.
"I have learn a lot many things here.. even the meaning of my name. I met Smriti Irani, she told me the meaning of my name, my father's name's meaning and mother's as well," he said.
India- Mongolia established diplomatic relations in December 1955. India was the first country outside the Soviet bloc to establish diplomatic relations with Mongolia. Since then, there have been treaties of mutual friendship and cooperation between the two countries.
Mongolia supports India's candidature as a permanent member of the United Nations Security Council while India supported the inclusion of Mongolia as a full member of the Non-Aligned Movement.