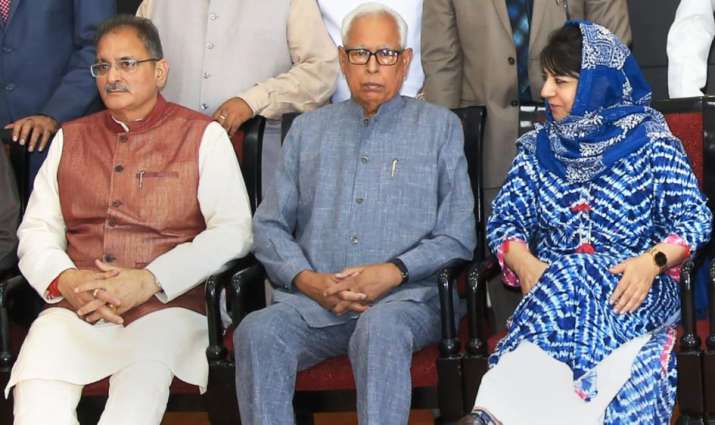 Jammu and Kashmir Assembly speaker Kavinder Gupta, state BJP chief Satpal Sharma and six others were today sworn in as ministers in the state's PDP-BJP government led by Mehbooba Mufti.
The major shake-up of the council of ministers - including six of the BJP and two of the PDP - follows BJP ministers Lal Singh and Chander Prakash Ganga resigning from the cabinet earlier this month after they were criticised for taking part in a rally in support of those accused in the rape and murder of an eight-year-old girl in Kathua. 
Seeking a fresh impetus in the governance, the PDP-BJP government has inducted leaders with impressive resumes. Let's have a look at new ministers of Jammu and Kashmir government:
Also read | Jammu and Kashmir cabinet reshuffle: BJP's Kavinder Gupta new Deputy CM; seven others sworn in as ministers
Kavinder Gupta
Fifty-eight-year-old Kavinder Gupta, who will take charge as deputy chief minister in Jammu and Kashmir's Mehbooba Mufti government, first stepped into an RSS 'shakha' when in his early teens and for decades has been an active political worker, who even spent 13 months in jail during the emergency. 
Born December 2nd, 1959, Gupta is a graduate, who has three children including two daughters. He was secretary of the Punjab Vishav Hindu Parishad in 1978-79. 
He headed the J&K unit of the Bharatiya Janta Yuva Morcha, the youth wing of the BJP, for two consecutive terms from 1993 till 1998. Gupta has also served as the mayor of Jammu for three terms consecutively from 2005 to 2010, which is a record. 
He has also been a general secretary of the BJP's state unit. He was elected as an MLA for the first time in 2014 from the Gandhi Nagar seat where he defeated a sitting Congress minister Raman Bhalla. 
Gupta was soon unanimously elected as the Speaker of the J&K Assembly. He is known for his work for the upliftment of the poor and downtrodden sections of the society as well as efforts to eradicate social evils.
Satpal Sharma
Jammu and Kashmir state BJP chief Satpal Sharma was inducted as a cabinet minister in the Mehbooba Mufti government today. Born on August 4, 1961, in the border town of R S Pura in Jammu district, Sharma was did B Sc and went on to become a chartered accountant.
Sharma is a general secretary of the Trikuta Samvad Kendra and an executive member of the Ved Mandir Committee among others. Born in a family with RSS background, he jailed during the Emergency. He began his active political career in 1997 with BJP. In 2014, he won from Jammu West constituency by huge margin of 50,629 votes, the highest margin recorded in the history of J&K.
Also read | J&K Cabinet reshuffle: Deputy CM Nirmal Singh resigns ahead of major rejig today, Kavinder Gupta to replace him
Sunil Kumar Sharma
Sunil Kumar Sharma, who was elevated from minister of state to cabinet minister today, was born on July, 15, 1977 in Kishtwar and is a graduate. He worked as secretary in Akhil Bhartiya Vidyarathi Parishad (ABVP), Kishtwar from 1994 to 1999.
He contested state Assembly elections in 2008 but was unsuccessful. In 2014, he was elected from Kishtwar and inducted in the council of ministers as minister of state for PWD and revenue. 
Shakti Raj Parihar
Born on January, 18, 970, Shakti Raj Parihar, who was inducted into council of ministers today, after passing higher secondary, worked in a French multinational before starting his own business. He joined BJP in 2008 and contested assembly elections unsuccessfully from Inderwal. In 2014, he got elected from Doda. 
Rajiv Jasrotia
Rajiv Jasrotia was born on October, 26, 1973, was inducted into state Cabinet today. He was a student leader. He also became head of the municipal committee of Hiranagar for four years. Presently a state general secretary of the BJP, he was elected as a member of J&K Legislative Assembly from Kathua. 
Dr Devinder Kumar Manyal
Dr Devinder Kumar Manyal, who was also inducted into state cabinet today was born on April 21, 1969 in Samba. He studied medicine and has an MBBS degree. He was elected from Samba in 2014.
Mohammad Ashraf Mir
Born on February 1, 1969 in Srinagar, Mohammad Ashraf Mir is an MBA who joined active politics in 2008 under the banner of PDP and contested 2008 Assembly elections unsuccessfully. He remained a member J&K Legislative Council from April 2011 to December 2014. In 2014, he was elected an MLA.
Mohammad Khalil Band
Mohammad Khalil Band, who was born on April 1951, was associated with NC from 1967 till May 2002. He joined PDP in June 2002. He is an MLA from Pulwama.
(With PTI inputs)
Watch video: