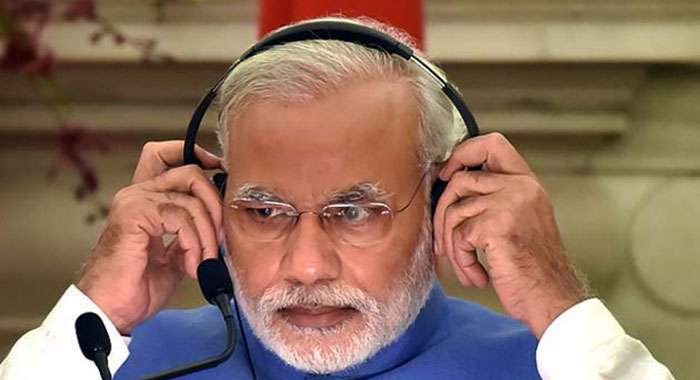 Prime Minister Narendra Modi on Sunday shared his thoughts and ideas with the nation on the 22nd edition of the popular radio programme 'Mann Ki Baat'.
PM Modi promised free check-up for pregnant women and expressed his concern over pregnancy related deaths and other complications faced by woman during pregnancy.
Here are some important points which have been highlighted by PM while addressing the nation:
1. Urging people to send their wishes to the athletes for upcoming Rio he said, "Today in Delhi, 'Run for Rio' was organised, we will organise many more programs to encourage our athletes. We extend out best wishes to the Indian contingents who will be representing India at Rio, this year."
2. Telling the importance of growing technology he said, "Tehcnology changes with every passing day, you can't catch it.. it keeps on transforming. Research and innovation is important. When we remember Dr. Kalam (Dr. APJ Abdul Kalam) we think of science, technology. Future is going to be technology driven, we need to embrace it."
3. "Stop taking antibiotic without consulting the doctor. This shortcut should not be used. It can only give you momentary relief," PM said.
4. Throwing light on the drought situation, he said, "Few days back we were worrying about drought situation, now where on one side we hear about monsoon, on other side, we hear about floods. Happy about monsoon but with that also comes some illnesses.We have to be careful and take precautionary measures to fight those illnesses."
5. On women's health, he said, "Concerned about health of pregnant women, the Govt has started Pradhan Mantri Surakshit Matritva Abhiyan (PMSMA)". "In the last one decade, there is a decline in MMR (maternal mortality rate) but we are not able to save many pregnant women's lives," he added.
6. Modi also discussed about his visit to Africa and said it was more of a pilgrimage. He said, "Recently I had the opportunity to visit South Africa for diplomacy purposes, but for me the visit was a"teertha yatra" (pilgrimage). When we talk about South Africa, it's natural to think about Mahatma Gandhi and Nelson Mandela and their great work. I had the opportunity to meet such people who struggled for equality."
7. "When we talk about South Africa, it's natural to think about Mahatma Gandhi and Nelson Mandela and their great work," added PM.
8. PM Modi cautioned citizens against frauds perpetrated through the use of mobile phones and internet.
9. He also told about the importance of festival and said, "This season has many festivals. Think of a gift which will provide beneficial value to sisters on Raksha Bandhan."
10. Seeking suggestions from people for Independence Day speech on August 15, he said," Suggest me whatever comes to your mind, I will share it with the country."