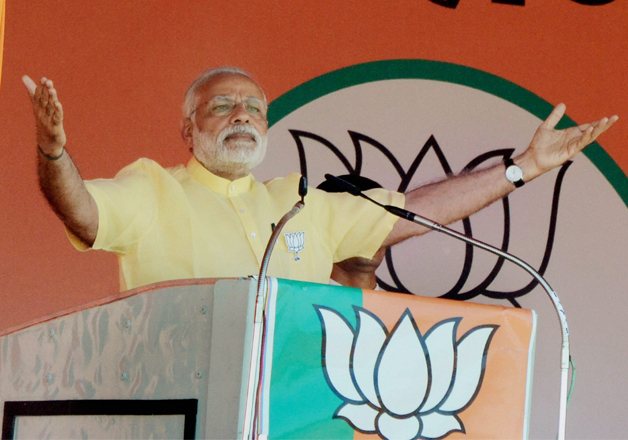 Massive security arrangements have been put in place for Prime Minister Narendra Modi' rally in Imphal West district. The rally will be held at Langjing Achouba ground in support of BJP candidates contesting the Assembly polls. 
The insurgent groups in Manipur have called for a shutdown in the state to protest against the PM's visit. The Coordinating Committee (Corcom) that constitutes of six insurgent groups, in a communique said that the blockade would start at 6 am on February 25 and will be in place till Modi leaves the state capital here.
Yesterday, police had recovered a hand grenade and a bomb from Imphal West, putting the state security apparatus up on its toes. According to police, a Chinese-made hand grenade was found near the gate of BJP candidate Soibam Subhachandra's residence at Ningombam Leikai, 9 km away from the Achouba ground, while another bomb was found in front of another BJP worker O Sunil's residence in Thoubal district, 40 km away from the rally venue. 
The police said that security measures were beefed up to ensure that there was no law and order problem during the one-hour visit of the Prime Minister. 
The Corcom statement also levelled serious charges against the Centre, including driving a wedge between the communities who have lived in peace and harmony for generations. 
Members of public were asked not to venture out during the 'curfew'. However media and those in essential services were exempted. The established insurgent groups in Manipur have always boycotted visits of the central dignitaries. 
The ruling Congress party has demanded that during his visit, Modi should spell out the details of the framework agreement that New Delhi had signed with the Nationalist Socialist Council of Nagaland Isak-Muivah (NSCN-IM) in 2015. 
Students and women activists also demanded the disclosure of details of the agreement.
Elections for the 60-seat assembly in the state will be held in two phases on March 4 and 8. Results will be declared on March 11.