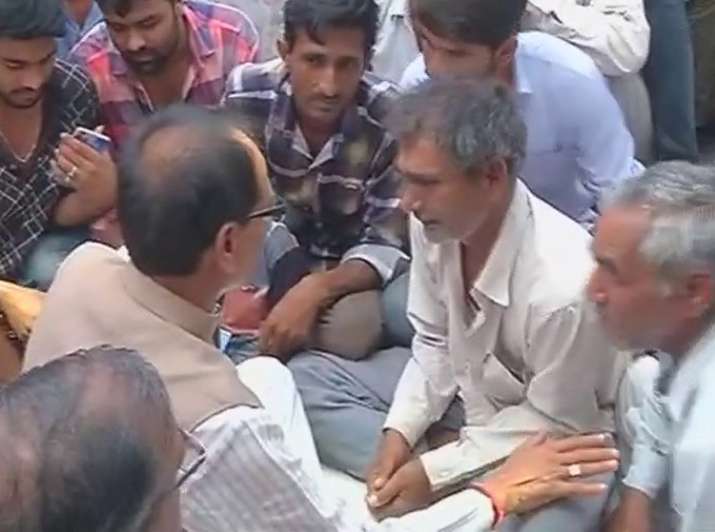 Madhya Pradesh Chief Minister Shivraj Singh Chouhan on Wednesday visited violence-hit Mandsaur district and met the families of farmers killed in the police firing last week. The farmers' protest in Madhya Pradesh, which began on June 1, took a violent turn on June 6, when five of them were killed in police firing at Mandsaur.
Authorities later imposed a curfew in the many parts of the dictrict which was later withdrawn even as prohibitory orders under Section 144 remained in force. Just before Chouhan's visit today, the district administration revoked prohibitory orders.
Chouhan had launched an indefinite fast here on Saturday with an appeal for peace and met farmer leaders. However, he ended his fast yesterday saying peace has returned to the state. Before ending the fast, he had assured that those involved in the deaths in Mandsaur would be punished severely.
On Chouhan's visit to Mandsaur, farmers presented him with a memorandum of demands. Farmers have sought action against policemen involved in the firing, a MSP of Rs 50 per litre for milk and special corpus to deal with crop loss among other demands. 
The Chief Minister handed over a cheque of Rs 1 crore to the family of one of them. The state government yesterday sanctioned financial aid of Rs 1 crore each to the families of the six farmers killed during the violent stir by peasants in Mandsaur. 
Chouhan along with his wife Sadhna reached Mandsaur in a special plane and went to Badwan village to meet the kin of farmer Ghanshyam Dhakad, who was killed in police firing. The chief minister handed a cheque of Rs 1 crore as compensation to the kin of Dhakad, as promised. 
He also assured the family members that strict action will be taken against those who shot dead the farmers.
Chouhan is also scheduled to visit Lodh, Nayakheda, Piplyamandi, Barkheda Panth and Budha villages to extend condolences to the kin of the other farmers killed in police firing. 
The district administration made elaborate security arrangements for Chouhan's visit. 
Five helipads were made at various places to ensure that the chief minister reaches the venue without any trouble, a senior official said. 
Yesterday, Congress leader Jyotiraditya Scindia and Gujarat's Patel quota stir spearhead Hardik Patel were turned back by the police before they could enter Mandsaur. Scindia will begin his 'satyagraha' on the issue of farmers' deaths today around 2 pm, a Congress spokesman said. 
Last week, Congress vice-president Rahul Gandhi was also not allowed to visit the district in the Malwa region of Madhya Pradesh.
The protests that began on June 1 with demands of farm loan waiver and minimum support price (MSP) for their crops. The agitation took violent turn and bandhs and arson were witnessed and five farmers lost their lives.