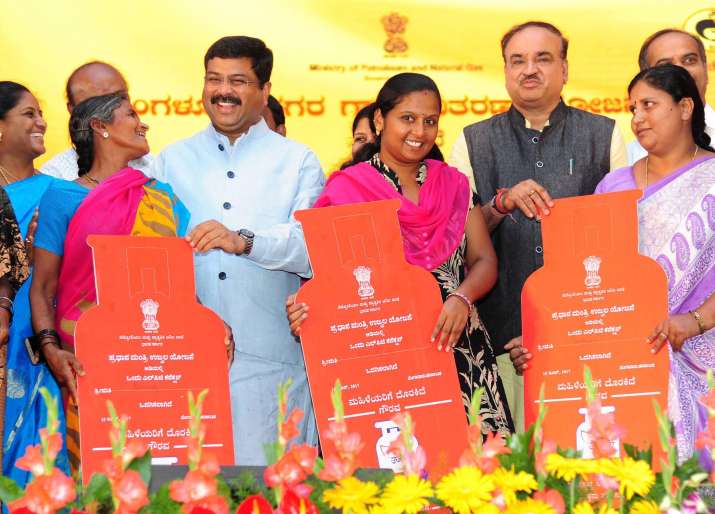 As Opposition slammed government's plan to end the LPG subsidy, Union Oil Minister Dharmendra Pradhan today assured that poor and needy will continue to get the financial assistance on LPG cylinder for domestic use. "We have no plan to withdraw subsidy on LPG for domestic use. Subsidy on LPG and kerosene will continue for the poor and common people," Pradhan told reporters here. His clarification came as Congress workers took out a protest march in Tamil Nadu's Coimbatore.
Pradhan said the ministry has taken up with Bangladesh the laying of a pipeline to carry natural gas from Chittagong to Tripura to tackle the LPG crisis in the North-East. 
"We are laying a pipeline for transportation of diesel from Siliguri in West Bengal to Parvatipur in Bangladesh. 
There is a pipeline for carrying diesel from Numaligarh oil refinery in Assam to Siliguri," he said. "In exchange, we have given the proposal for a gas pipeline from Chittagong to Tripura. We are pursuing the matter diplomatically and I will visit Bangladesh soon." 
The pipeline, if approved by the Bangladesh government, would be laid next to the railway line near the Indo-Bangla international border, he said. 
Pradhan launched the Pradhan Mantri Ujjwala Yojana in Tripura here and distributed LPG connection to 20 below poverty line (BPL) families. 
In Tripura, 9.22 lakh households have LPG connection and efforts are on to extend it to all. 
The oil minister laid the foundation for a new 60 tmtpa (thousand metric tonnes per annum) capacity grassroots bottling plant here at an estimated cost of Rs 143 crore. It will be completed by 2019. 
Pradhan said requirements of nearly 4.5 lakh households are catered to by the existing bottling plant. With the completion of the new facility, the capacity of LPG supply is expected to double and cover most households.
Congress workers protest LPG subsidy withdrawal 
Over 100 women Congress workers today staged a novel protest in Coimbatore by carrying a mock coffin of a gas cylinder to condemn the Centre's proposed move to withdraw subsidy for LPG. 
The workers took out the mock funeral procession symbolising the death of gas cylinders, and placed them near the South Taluk office here. 
The workers also brought earthen pots and firewood to show that poor families have to depend on these materials if the subsidy was withdrawn, the District Mahila Congress President, Uma Maheswari, who led the agitation said.
(With PTI inputs)