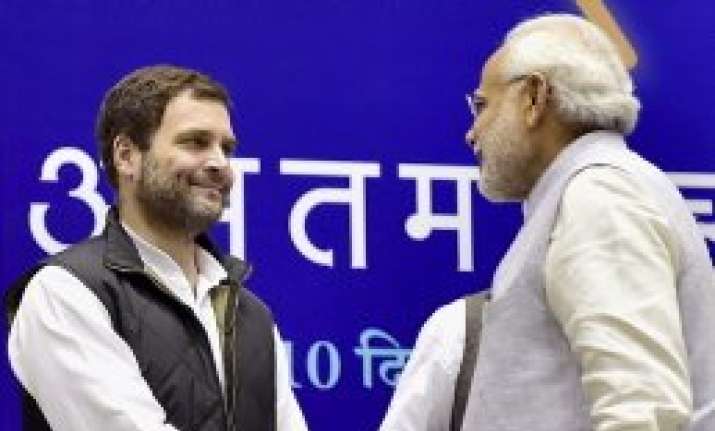 Two days after Rahul Gandhi claimed that he had concrete evidence on Prime Minister's personal corruption, the Congress Vice-President  led a delegation of party leaders to meet PM Narendra Modi to submit a memorandum seeking loan-waiver  for debt-ridden farmers in poll-bound Uttar Pradesh and Punjab..
"We have submitted a memorandum seeking loan waiver for farmers. I also asked PM to waive off farmer loan like he had exempted industrialists from paying Rs 1.4 lakh crore of industrialists," Rahul Gandhi told reporters after meeting.
Prime Minister admitted that farmers are in a serious situation, however, he did not answer on the issue of loan waiver, he added.
PM ne mana ke kisaano ki halat gambhir hai, karza maaf karne ki baat par unhone kuch nahi kaha sirf suna: Rahul Gandhi after meeting PM pic.twitter.com/DGXVXyxOqB

— ANI (@ANI) December 16, 2016
The memorandum includes loan waiver and problems faced due to demonetisation. The delegation comprised leader of the opposition in the Rajya Sabha Ghulam Nabi Azad, party's leader in the Lok Sabha Mallikarjun Kharge, Punjab Congress chief Captain Amarinder Singh and other MPs from UP and Punjab.
Amid acrimony between Centre and Opposition over demonetisation, Prime Minister Narendra Modi reportedly told Rahul that they should always meet like this
Rahul Gandhi's meeting with Prime Minister Narendra Modi this morning has dealt a big blow to the carefully crafted opposition unity that held fast through the winter session.
The Left parties, Samajwadi Party, Mayawati's Bahujan Samaj Party, Nationalist Congress Party headed by Sharad Pawar and the DMK have dropped out of the protest march to meet the President, minutes before it was to begin from the Gandhi statue in the Parliament premises.  
They are upset that the Congress sought a meeting with the Prime Minister without involving the other opposition parties. 
On Wednesday, Mr Gandhi told reporters at Parliament: "Read my lips... the PM is personally terrified of the information I have. It is personal corruption of the PM that we have detailed information."