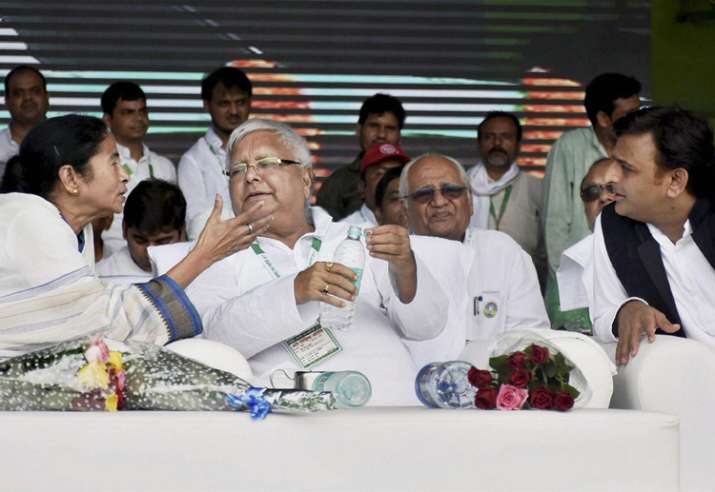 Leaders of several opposition parties today came together at an RJD rally here and gave a call for dethroning the BJP in the next parliamentary election but much of the sheen was lost due to the absence of leaders like Congress president Sonia Gandhi, her son Rahul and BSP chief Mayawati. Political heavyweights who attended the rally included West Bengal Chief Minister Mamata Banerjee, Samajwadi Party president Akhilesh Yadav, Congress leader Gulam Nabi Azad and JD(U) rebel Sharad Yadav. 
Buoyed by the impressive turnout at Gandhi Maidan, RJD chief Lalu Prasad and other leaders claimed the countdown for the ouster of the BJP and its allies from power in the 2019 Lok Sabha polls had begun. 
Other opposition parties that were represented at the rally included NCP, National Conference, DMK, Kerala Congress, RLD, CPI, JMM, JVM, JD(S) of former prime minister H D Deve Gowda, AIUDF of Assam, RSP and CPI-ML. No CPI-M leader attended the rally citing the presence of Mamata Banerjee whose TMC is its main rival in West Bengal politics. 
Besides the BJP, Bihar Chief Minister Nitish Kumar, who dumped the Grand Alliance over alleged corruption by Lalu and his family members, and later formed the government with the saffron party, was the butt of criticism by opposition leaders.
Lalu Prasad, Mamata Banerjee, Gulam Nabi Azad, Sharad Yadav, Akhilesh Yadav and others mounted a blistering attack on Prime Minister Narendra Modi and questioned what happened to his promise of ushering in 'achche din' (good days) in the three years that he has been in power. 
They blamed the Modi government for the "plight" of farmers, workers and youth.
Almost all the speakers recalled the triumph of the Grand Alliance in Bihar in 2015 which stopped the BJP juggernaut and vented their anger at Nitish Kumar for "betraying people's mandate by going with BJP." 
Sharad Yadav 
Rebel JD(U) leader Sharad Yadav attended the rally, defying the party's directive against it, and spoke at length about the disintegration of the Grand Alliance in Bihar. 
Yadav said he would now work for forging a 'Gathbandhan' (Alliance) of 125 crore citizens, an apparent reference to attempts at cobbling together a coalition of opposition parties against BJP-led NDA. 
"Hindustan bhar mein Gathbandhan banega ab," Sharad Yadav roared to applause from the large gathering at a rally here organised by RJD chief and former Bihar Chief Minister Lalu Prasad. "I would like to remind those who broke the Grand Alliance in Bihar that now we will form the Grand Alliance of 125 crore people."
Yadav, all set to face action for attending the RJD rally, did not name Kumar but spoke about how the faith of 11 crore people of Bihar who had voted for the Grand Alliance was broken. "It is for the first time that the manifestos of two rivals mingled midcourse." 
"I am not afraid of you," he said, apparently referring to Kumar, and asserted that his struggle for the cause of farmers and workers would continue. 
"I am facing 43 cases and both my legs were broken in the course of my struggle for the poor and downtrodden ... The fight would continue. Now I will work for forging a 'gathbandan' (coalition) for 125 crore citizens of the country," he added. 
Rahul Gandhi
Recorded messages of Congress president Sonia Gandhi and her deputy Rahul Gandhi were played at the event. 
"I am glad to know that you have organised a large public meeting in Patna on August 27 in which leaders of various (opposition) parties with a common ideology are taking part," Rahul said in his message. 
"This rally is being organised at a time when the very foundation of our pluralistic democracy is under severe attack. Using money and muscle power, the ruling party (BJP) is extending its rule into states where it could not secure the electoral mandate," he added.
The Congress leader said that barring a few people close to the government, every section of society is "bearing the brunt of anti-people and anti-poor policies" of this (central) government. 
"I am sure this rally will expose the evil designs of the ruling party and its government. I had wished to attend this rally but could not, thanks to an official trip to Norway. I convey my best wishes to all those taking part in the rally," he said.
Mamata Banerjee
Speaking before host Lalu Prasad, Banerjee, who was the toast of the event, strongly criticised demonetisation and said it would lead to the downfall of BJP in the next election. 
"Like nasbandi (forced sterlisation) had led to fall of Indira Gandhi, notebandi (demonestisation) will lead to the downfall of BJP," Banerjee declared. 
Targeting the BJP and Prime Minister Narendra Modi for making "false promises" and their total failure to fulfil any of them for people, Mamata said, "
"They only made false promises and did not anything else," Banerjee said in her speech delivered in Hindi at the large gathering at a rally here organised by Rashtriya Janata Dal chief Lalu Prasad.
"We have seen three and half years that passed so far in the name of 'achche din' (good days).But reality on the ground is different... farmers are dying, unemployed youths are growing at fast rate like never before, common people are fed up with price rise," she said.
She also accused the NDA government at the Centre of bias against states non-BJP ruled states. "When there is trouble in Haryana or Rajasthan (ruled by the BJP), they send the Army but the same is not done in case of West Bengal in times of need," she said. 
Banerjee also charged the Centre with "misusing" central agencies against opposition leaders "not joining the BJP chorus". "I am a fighter and will not be cowed down by such tactics," she asserted. 
Lalu Prasad Yadav
Lalu focused mostly on Nitish Kumar, calling him a 'Palturam'(turncoat). "This is probably his last 'palti' (about turn) as no party would trust him now," he said. The RJD boss accused Kumar of getting false cases foisted on his family members with the help of the BJP as he is "jealous of the rise of Tejaswi Yadav." 
Lalu also pointed an accusing finger at Kumar in the multi-crore rupees Srijan NGO scam and repeated the demand for his resignation. He demanded that the ongoing CBI probe be conducted under the supervision of the Supreme Court. 
A majority of the speakers including Banerjee, Congress' Gulam Nabi Azad, Akhilesh Yadav, JMM leader Hemant Soren, and RLD's Jayant Chaudhary praised Tejaswi Yadav, younger son of Lalu Prasad who is the leader of opposition in Bihar. JD(S) representative Danish Ali read out the message of his party leader H D Deve Gowda. 
Gulam Nabi Azad
Gulam Nabi Azad, the leader of opposition in Rajya Sabha launched a blistering attack against Nitish Kumar and the NDA government at the Centre. 
"Today one person is missing from this dais ... Nitish Kumar you have betrayed 11 crore citizens of Bihar by selling their vote to BJP," Azad, whose party has decided to stay with RJD, said. 
"The BJP had used 26 helicopters and 6 planes during the Bihar poll campaign while the Grand Alliance had only four aircraft for campaigning. Still the poor of the state defeated the BJP and gave us massive the mandate ... Nitish Kumar left Lalu Prasad and now people of Bihar will leave him," Azad, who attended the rally with his party colleague C P Joshi, said. 
Akhilesh Yadav
Akhilesh Yadav questioned Prime Minister Narendra Modi's promise of creating two crore jobs every year. 
Lalu Prasad's elder son Tej Pratap Yadav blew the conch at the rally and said he had sounded "the bugle for Arjun" (his younger brother Tejaswi Yadav) to launch a decisive battle against Nitish Kumar and the BJP in Bihar. 
Tejaswi Yadav, who had promised he would answer accusations about his integrity after CBI registered a corruption case against him in land-for-hotels case, did not talk about it. Instead, he asked the gathering: "Do you believe that I am a thief or corrupt?"
(With agencies)