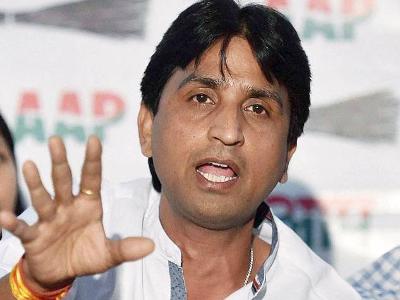 Aam Aadmi Party (AAP) leader Kumar Vishwas today chided Delhi Chief Minister Arvind Kejriwal over the issue of corruption. 
In a video shared on his personal twitter handle, Kumar made veiled attack on Kejriwal as he expressed discontent over several ministers and leaders of the ruling party getting their names mired in graft cases. 
"If a party gets elected in Delhi on the issue of corruption and if ministers of the same party are accused of corrupt activities, people will raise questions against the government," the renowned poet can be heard as saying in the 13-minute long clip. 
Further, he lambasted the Centre over its failure to secure the release of former Indian Navy officer Kulbhushan Jhadav, a death row convict in Pakistan. 
हम भारत के लोग!
We, The Nation!
Watch, Listen and Share if you feel for Nation! 🇮🇳🙏https://t.co/xKqFQuVB5j

— Dr Kumar Vishvas (@DrKumarVishwas) April 14, 2017
"If the government gets elected on the name of nationalism but fails to deliver its promises, questions will be raised," he said. 
He also questioned the government's Pakistan policy, saying, "While Pakistan has been continuously attacking India, India has included Pakistan in the 'most favoured country list'."