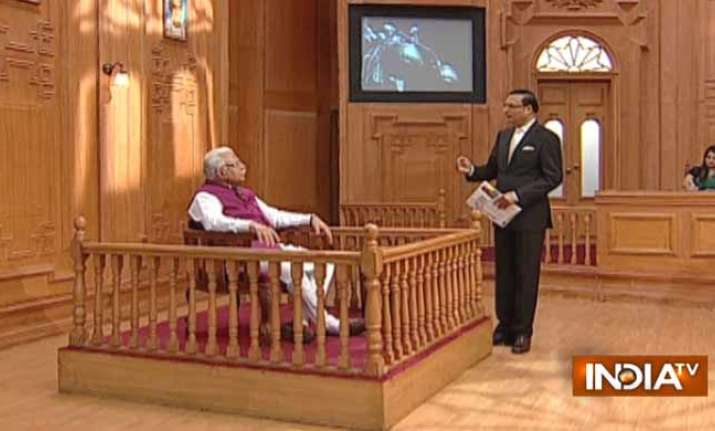 Haryana Chief Minister Manohar Lal Khattar on Saturday said that there was a conspiracy in place on August 25 to let Dera Sacha Sauda chief Gurmeet Ram Rahim escape from the Panchkula based special CBI court in case of his conviction in two rape cases.
Appearing on India TV Editor-in-chief Rajat Sharma's Aap Ki Adalat show, he applauded the security forces for foiling the plan.
Clearly indicating that some Punjab Police personnel could have been part of the plot to let Ram Rahim escape, he said: "Under whose authority they were sent, we do not know. While five policemen from Haryana in his security had one weapon each, all these eight Punjab Police men had two weapons each. We arrested five of our policemen, immediately suspended and later dismissed them. We also arrested these eight Punjab policemen."
The Chief Minister also noted that his government wanted to avoid any flareup before August 25 otherwise it could have given Ram Rahim an excuse not to appear in court. 
Also Read: Haryana CM Manohar Lal Khattar in Aap Ki Adalat: 'There was a big conspiracy to let Ram Rahim escape from Panchkula court'
"There were one lakh followers inside his Dera and nearly one lakh outside and our forces including the army, would have been sandwiched in between. You can just imagine the situation," he said. "It was immaterial whether he travelled in a cavalcade of 200 cars, or a thousand, or 2,000 or 8,000 cars. Had we stopped his cavalcade, he could have refused to appear in court."
To a question whether his government was under pressure from the Dera to allow his followers to assemble in Panchkula, Khattar said: "No, there was no pressure. But in view of our past experience with self-styled godman Rampal in November 2014, we were careful this time." 
The Chief Minister reaffirmed that the government had taken measures, stopped buses and train, posted 17 barriers around Panchkula. "The town of Panchkula has only 30 per cent border with Haryana and the remaining 70 per cent with Punjab and Chandigarh. We could not have closed down the Himachal-Punjab NH-22."
Crediting intelligence people for providing specific information related to Ram Rahim's vehicles, he said, "I would give credit to our intelligence guys who told us in which vehicle he was sitting. Since the court had allowed only two vehicles, these two vehicles were allowed to come in."