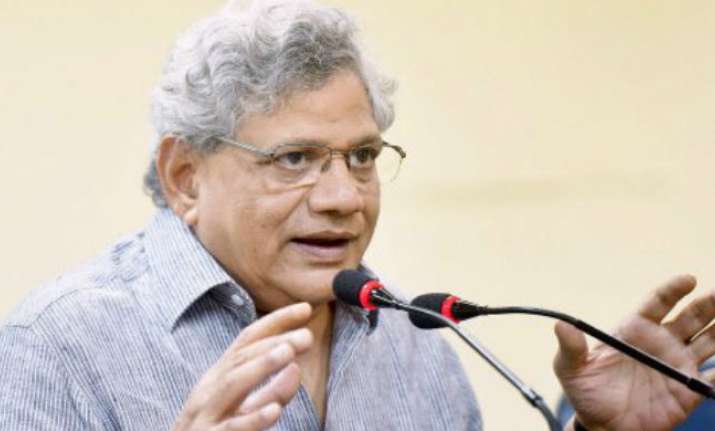 Sitaram Yechury, the general secretary of CPI(M), today pointed out that terms like 'trust' and 'development' that the Prime Minister Narendra Modi used in the context of Kashmir are meaningless unless they are backed by concrete actions.
He further said that 'trust' in Jammu and Kashmir will not fall from heaven and that it needs to be cultivated through "tangible and concrete actions".
According to Yechury, one of these actions could be to constitute a small group of MPs to constantly and periodically interact with all stakeholders in Jammu and Kashmir.
Yechury, who has been part of all-party delegations that have visited Kashmir since 2008, candidly said he was very "disturbed" with the alienation which he found was deeper now than any time before.
"It was a very disturbing experience to be there in this time in Srinagar. Disturbing in the sense that I have not seen the degree of alienation so deep any time before," the CPI(M) General Secretary said.
He said he had been to the state in the troubled times of 2008 and 2010 with parliamentary delegations, but "somehow the feedback or the vibes this time were very disturbing. Why this alienation, is something that still bothers me."
"The effectiveness of the decisions we took and the statement we adopted at the all-party delegation level are crucially dependent on the sincerity of the government in implementing it.
"I have said in the meeting itself that mere repetition of 'Insaniyat, Jamhooriyat and Kashmiriyat' that (Atal Bihari) Vajpayee used or the coinage of 'Vikas and Vishwas' that the Prime Minister (Narendra Modi) used, are meaningless unless they are backed by concrete actions.
Vishwas (trust) is not manna to fall from heaven, it has to be created. Vishwas has to be created, and if it has to be created, there have to be tangible steps on the ground," he said and reasoned that the slogan of Vajpayee was backed by the declaration of unilateral ceasefire - 'Ramzan ceasefire', followed by interactions with separatists which continued till January 2004.
Manna' is the food miraculously dropped to people traversing through the wilderness of deserts, according to holy scriptures.
"What I was telling this government is that mere phrases will not deliver. Phrases along with tangible and concrete actions will help," he said.
(With PTI inputs)