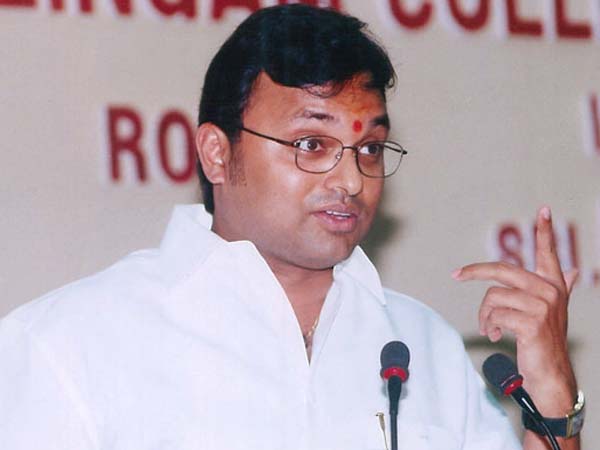 After raids by the Central Bureau of Investigation (CBI), more trouble is likely for former finance minister P Chidambaram and son Karti with the Central Board of Direct Taxes (CBDT) now likely to initiate a probe into the reported irregularities in foreign investment approval for INX Media in 2007. 
Reports said that CBDT chairman Sushil Chandra held a meeting with the Prime Minister's Office (PMO) hours after the CBI raided Karti's residence in Chennai, his office in Gurgaon and other places yesterday. 
"We received information on Karti some two years ago, we have been investigating the cases. We will act on all information shared by the CBI. We are monitoring the case on a regular basis and can call Karti for questioning as well," Sushil Kumar was quoted as saying. 
It is alleged that Karti received at least Rs 3.5 crore from INX Media, a firm then owned by Peter and Indrani Mukerjea, for using his influence to manipulate a tax probe against it in a case of violation of FIPB conditions to receive investments from Mauritius. 
CBI said in its FIR that INX Media stated in its records that Rs 10 lakh was given to Advantage Strategic Consulting (P) Limited, a firm 'indirectly' owned by Karti, for management consultancy charged towards FIPB notification and clarification.
In its FIR against Karti, CBI has alleged that Rs 3.5 crore was paid by INX Media to companies directly or indirectly controlled by Karti to influence the FIPB decision. 
While the agency didn't name Chidambaram in its FIR and only unknown officials of the Finance ministry are named, sources said that the former minister was "very much under the scanner" as the final approval was given by him.
According to CBI sources, the agency is investigating the charge that Karti Chidambaram's company received Rs. 10 lakh from INX Media, which got an FIPB or Foreign Investment Promotion Board clearance for Rs 4 crore but actually received Rs. 305 crore.
On the other hand, a report in The Indian Express said that apart from INX Media, 19 other firms are under the scanner for transactions with Advantage Strategic Consulting Private Limited (ASCPL) and Chess Management Services, two firms linked to Karti Chidambaram.