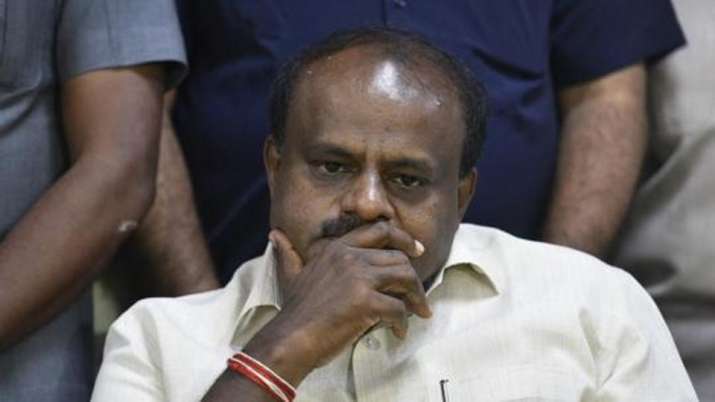 The stage is set for a major political showdown starting Thursday in the wake of a spate of resignations threatening the existence of the coalition government in Karnataka.
To this end, Bengaluru Police Commissioner Alok Kumar has issued prohibitory orders under section 144 of the Criminal Procedure Code, restricting the gathering of more than five persons and any form of protests within the two-km area around the Vidhana Soudha.
The police commissioner issued the orders on Wednesday night, taking into account intelligence inputs.
The prohibitory orders came into effect on Thursday when Chief Minister HD Kumaraswamy is scheduled to chair a cabinet meeting in the backdrop of 16 MLAs, including Housing Minister M T B Nagaraj, resigning and two Independent legislators -- R Shankar and H Nagesh -- withdrawing support to the Congress-JD(S) coalition government on Wednesday.
HERE ARE THE LIVE UPDATES ON THE KARNATAKA CRISIS:
07:30 pm: Karnataka Speaker: They (rebel MLAs) told me that some people had threatened them and they went to Mumbai in fear. But I told them that they should've approached me and I would've given them protection. Only 3 working days have elapsed but they behaved like an earthquake occurred.
07:15 pm: Karnataka Assembly Speaker KR Ramesh Kumar: I need to examine these resignations all night and ascertain if they are genuine. The Supreme Court has asked me to take a decision. I have videographed everything and I will send it to the Supreme Court.
07:05 pm: Karnataka Assembly Speaker KR Ramesh Kumar: I felt hurt when I saw some news that I am delaying the process.
06:20 pm: Karnataka Assembly to convene on Friday
The spree of resignations by MLAs of the ruling Congress and JD(S) is set to resonate in the Karnataka Assembly when it convenes on Friday for a 10-day session amidst Opposition BJPs demand for a floor test and ouster of the HD Kumaraswamy government.
Furthermore, Karnataka Congress Chief Ganesh Hukkeri has issued a whip to party MLAs to attend tomorrow's session to pass the finance bill and other matters, failing which absent MLAs will be disqualified under the anti defection law.
06:10 pm: Rebel MLAs have arrived at Vidhana Soudha, Bengaluru to submit resignations. 
Speaker KR Ramesh Kumar will address media at 7 pm.
05:10 pm: Government will survive, ready to face no-confidence motion, says state minister
The Karnataka Cabinet met Thursday and said it was ready to face the situation "bravely" and "withstand" it unitedly.
The Cabinet that met under the leadership of Chief Minister HD Kumaraswamy said it was ready to face a no-confidence motion, if moved by the opposition BJP.
"Political developments were discussed, what was discussed and decided was that the government is in a crisis situation, there is no doubt about it, various reasons for it and steps to solve it were discussed," Rural development minister Krishna Byre Gowda said.
04:15 pm: Disgruntled MLAs approaching SC made things 'murky', says Speaker KR Ramesh Kumar
Ahead of his meeting with the disgruntled Congress and JD(S) MLAs, Karnataka Assembly Speaker KR Ramesh Kumar said the legislators
approaching the Supreme Court made things appear "murky."
"I had not prevented them (disgruntled MLAs) from coming (to my office). I don't know why they moved the Supreme Court to meet me," Kumar told reporters outside the Vidhana Soudha.
"There was no need for them (MLAs who resigned) to approach the Court (for a direction) that I should meet them. They could have willingly come here. That itself shows the whole thing is murky," he said.
04:00 pm: Security being beefed up at Vidhan Soudha in Bengaluru
Karnataka: CM HD Kumaraswamy, Congress leader DK Shivakumar and others inspect security arrangement at Vidhana Soudha in Bengaluru. The rebel MLAs have been directed by the Supreme Court to meet Karnataka assembly speaker at 6 pm today & resubmit their resignations. #Karnataka pic.twitter.com/Sm4Vqq5R00

— ANI (@ANI) July 11, 2019
02:45 pm: Rebel Congress MLAs reach Chhatrapati Shivaji Maharaj International Airport
Mumbai: Rebel Congress MLAs reach Chhatrapati Shivaji Maharaj International Airport. They have been directed by the Supreme Court to meet the Karnataka Assembly Speaker at 6 pm today and submit their resignations if they so wish. pic.twitter.com/1gUDE7lzCD

— ANI (@ANI) July 11, 2019
02:17 pm: Congress leader and advocate Abhishek Manu Singhvi, who had mentioned the matter before the Supreme Court, said such a direction, asking the Speaker to decide on the resignation of ten rebels, can't be issued by it.
02:15 pm: Speaker KR Ramesh Kumar moves SC seeking more time to deal with resignations
Supreme Court said, 'In the morning we have fixed the matter for hearing tomorrow'. https://t.co/QbJ6igQ6lq

— ANI (@ANI) July 11, 2019
01:30 pm: With Rahul Gandhi, but coalition left us heartbroken, says rebel Congress MLA
ST Somashekar: Since last 3 days they became active to solve our issues. Why did they not care about us before? You imposed an IAS officer on Bengaluru Development Authority to scrutinise me as I am the BDA president. When you (govt) take such decisions, we don't need this govt. https://t.co/Id9v6VrmG6

— ANI (@ANI) July 11, 2019
12:50 pm: Congress walks out of Lok Sabha over Karnataka
From what we know, Congress members have walked out of the Lok Sabha over the political situation in Karnataka and Goa where many of its MLAs have either quit the House or joined the BJP.
The House was plunged into uproar when a Congress request to raise the issue during Zero Hour was not allowed by Speaker Om Birla.
The agitated Congress MPs then trooped out of the House. This was the party's third walkout in as many days.
The Congress has accused the BJP of destabilizing the coalition government of Congress and JD-S in Karnataka where as many as 17 MLAs of the two parties have quit the Assembly.
12:40 pm: The 10 rebel MLAs holed up in Mumbai are likely to leave for Bengaluru after 2 pm
11:20 am: Supreme Court asks rebel MLAs to meet Speaker and submit resignations at 6 pm
The Supreme Court says Karnataka Speaker has to take a decision in remaining part the day. The Court also ordered the DGP of Karnataka to provide protection to all the rebel MLAs and adjourned the hearing for tomorrow (July 12). https://t.co/ih2fE1AKR3

— ANI (@ANI) July 11, 2019
10:52 am: Shivakumar to go the legal way.
#Karnataka Min&Congress leader DK Shivakumar at Kumara Krupa Guest House in Bengaluru: Since the hotel ppl in Mumbai y'day rejected my reservation after making me stand for hrs together,I've asked my legal ppl to look into it. I'll have to take a legal remedy to protect my rights pic.twitter.com/dDXxpWQKbH

— ANI (@ANI) July 11, 2019
10:45 am: Congress leaders including Sonia Gandhi, Rahul Gandhi and Anand Sharma protest in front of the Gandhi statue in Parliament. Rahul Gandhi tells ANI, "We are protesting against Karnataka and Goa issue."
08:00 am: Karnataka Chief Minister HD Kumaraswamy has called a Cabinet meeting today and it is speculated he may propose to dissolve state assembly
WHAT HAD HAPPENED TILL JULY 11
Assembly Speaker K R Ramesh Kumar was yet to accept the resignations of the MLAs. Kumar has said he has to first hear the legislators. He also pointed out that of the 16 resignations of the MLAs, only five were in the proper format.
The developments surfaced well ahead of the Assembly session starting Friday.
The opposition Bharatiya Janata Party (BJP) has asked Kumaraswamy to step down, claiming that his government has lost the majority.
The saffron party has also urged the governor to step in following the crisis.