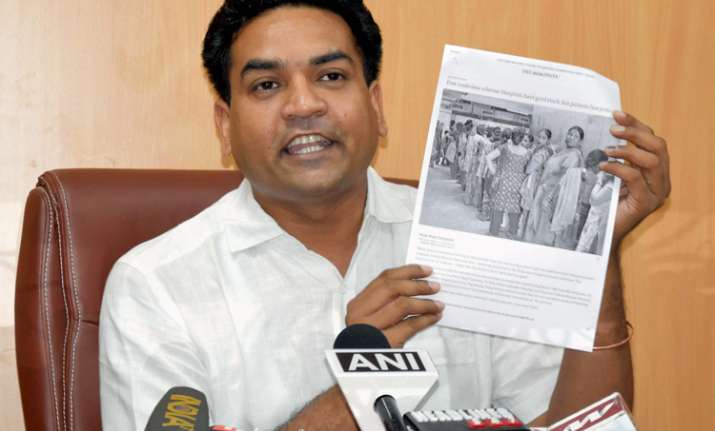 Sacked Delhi Minister Kapil Mishra, who has opened a front against Chief Minister Arvind Kejriwal by levelling various allegations, today claimed that he was attacked in the Delhi Assembly by Aam Aadmi Party MLAs. 
Mishra was marshalled out of the Assembly after a scuffle broke out between him and AAP MLAs. 
"I have been demanding to speak in Assembly. I was not allowed to speak. Everyone saw it," Mishra said outside the House. "Kejriwal was laughing inside the Assembly…. I was beaten and punched in the Assembly," the Karawal Nagar MLA said. 
Also Read: Sacked Delhi minister Kapil Mishra claims Rs 300 crore scam in medicine purchase
#WATCH Kapil Mishra marshalled out of Delhi Assembly after a scuffle broke between him and other Aam Aadmi Party MLAs pic.twitter.com/fCprHosxhr

— ANI (@ANI) May 31, 2017
The legislator claimed that he was "beaten up on the directions of (deputy chief minister) Manish Sisodia."
After being thrown out of the assembly, Mishra said, "I was not given a chance to speak in the House, so I made a demand for a special session to be called at Ramlila Maidan. Suddenly, they (AAP legislators) rushed at me... they pushed me, pummeled me on the chest and some of them kicked me from behind."