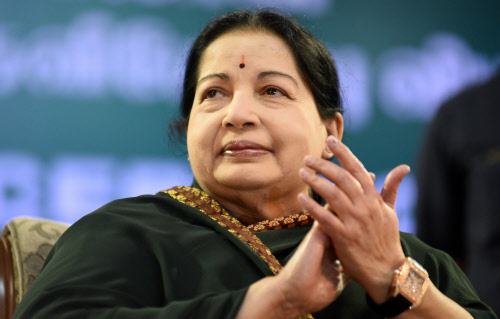 The turmoil surrounding the Tamil Nadu politics and former Tamil Nadu Chief Minister J Jayalalithaa's death doesn't seem to be ending anytime soon. 
Ousted AIADMK leader and former Tamil Nadu speaker P H Pandian on Thursday claimed that Jayalalithaa was admitted to Apollo Hospitals on September 22 after she was pushed by someone in her Poes Garden residence.
"Amma (Jayalalithaa) fell down after someone pushed her. Nobody knows what happened to Amma after that. A police official called an ambulance, and she was taken to hospital," Pandian told reporters at O Panneerselvam's residence here.
He further alleged that 27 CCTV cameras were removed from Apollo Hospitals after Jayalalithaa was hospitalised, saying that the hospital management should explain why they had been removed.
Pandian said that Jayalalithaa died at 4:30 pm on December 4 but the hospital announced about her death on December 5. He also said he wanted to know which family member had given permission to stop medical treatment to Jayalalithaa. 
Raising questions on the treatment given to Amma, Pandian asked, "Being a chief minister, she was under SPG security. Was her food checked as per the SPG Act and why were they not allowed in the hospital?" 
The former Tamil Nadu speaker went on to say that Jayalalithaa's thumb impression was taken for the A form and B form for the AIADMK candidates who filed their nominations for the byelections in three constituencies. 
"Did they take her thumb impressions on any other document? Doctors or people who were with her should answer," he said. 
Last month, in an attempt to dispel rumour relating to Amma's death, a team of doctors lead by London-based Prof Richard Beale held a press conference in Chennai last. This conference was scheduled just ahead of Sasikala's proposed swearing-in as the Tamil Nadu CM.