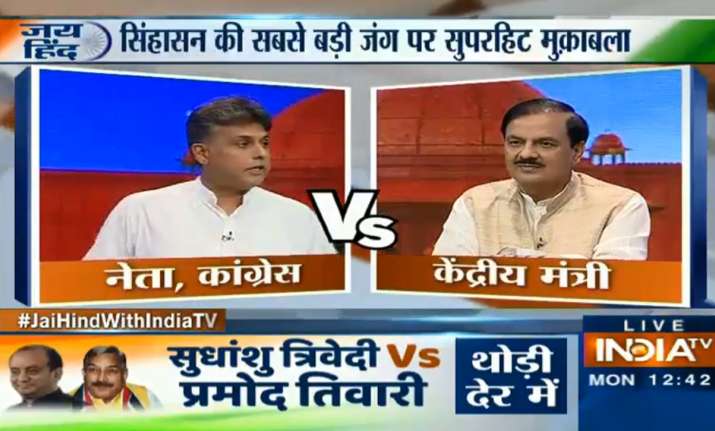 Country's profit is going into the bank accounts of youth, poor and farmers, claimed Union minister and BJP leader Dr Mahesh Sharma on Monday. Sharing a dais with Congress spokesperson Manish Tewari at India TV's conclave 'Jai Hind', the BJP leader said that directly or indirectly the black money from Swiss bank accounts is finding its way into the bank accounts of common citizens of India. 
In a reply to Manish Tewari's jibe at BJP's 'unfulfilled' poll promise of Rs 15 lakh in every Indian's account, Sharma said, "In past four year's country's GDP has grown by 31 per cent, where is this money going - it is going in the bank accounts fo poor. The gas subsidy, the schemes for farmers, funds for Mudra Yojna, who is getting this money- nation's youth, poor, farmers. The money we have saved is being diverted into the accounts of these people."
"Today Swiss banks are ready to share details of the account holders, something they could not do in 50 years. We had some international agreements we were bund to honour, but the money will directly or indirectly go into the accounts of the common man in India. Count it at the end, it's quite possible it's more than the promised amount," he further added.
Watch full video of first session of India TV's conclave 'Jai Hind' here: 
In a discussion moderated by India TV's Managing Editor Piyush Padmakar, Manish Tewari challenged BJP leader's claim that the party has fufilled all its electoral promises by claiming that Modi government ha failed to deliver the promise of job creation. 
"BJP promised that at least 2 crore jobs will be provided every year, which amounts to 8 crore jobs so far. By government's own account, in last four years, 8 lakh 23 thousand job opportunities have been created not jobs," Tewari said. 
He further added that according to reports by committee's chaired by BJP's own leaders, the country's defence suffered tremendously in past four years. "Murli Manohar Joshi, former BJP chief, is part of a parliamentary defence committee which also has 16 other BJP legistators, has given the Parliament a report that in last four years the country's defence preparedness has suffered severely. The percentage of GDP spent on defence has come down to a 40-year-low," he claimed. 
In his rebuttal, Sharma argued that a country's defence is as strong as the will of its leaders, "Country's defence is not stregthened by increasing the budget but with a strong willpower. Today, India has given a strong answer at all fronts, be it Doklam or Chabahar. PM Modi is following in the footsteps of Atal Bihari Vajpyee, when he was given the threat of sanctions he went ahead with nuclear testing, the same is being done now."
Sharma, who is Union Minister of State for Culture, also attempted to put the 'sale of Red Fort' controversy to rest and clarified that no exchange of money has taken place between the government and private companies which came forward to provide assistance in managing India's historical monuments.
"If biggest corporate companies of the country come forward to say that let us help preserve a national heritage, we can't ask them to go away," he said adding that no company has been given work to maintain the main premises or boundary of the Red Fort, it is only smaller things like the parking lt management that they get to do, the minister clarified. 
India TV Conclave 'Jai Hind'
India TV's full-day conclave 'Jai Hind With India TV' brings together some of the biggest political names together on a platform to discuss the agenda of Prime Minister Narendra Modi's last Independence Day speech before the country goes to polls in 2019.  
The likely panelists of various discussion throughout the day include Baba Ramdev, Kumar Vishwas, BJP leaders Kiren Rijiju, Mahesh Sharma, Mukhtar Abbas Naqvi, Sudhanshu Trivedi, GVL Narsimha Rao, Sambit Patra, Congress leaders Manish Tewari, Pramod Tiwari, RPN Singh, Rashid Alvi, Raj Babbar, Pawan Khera, RSS ideologue Rakesh Sinha, Jamiat Ulema-e-Hind president Maulana Arshad Madani and other personalities.