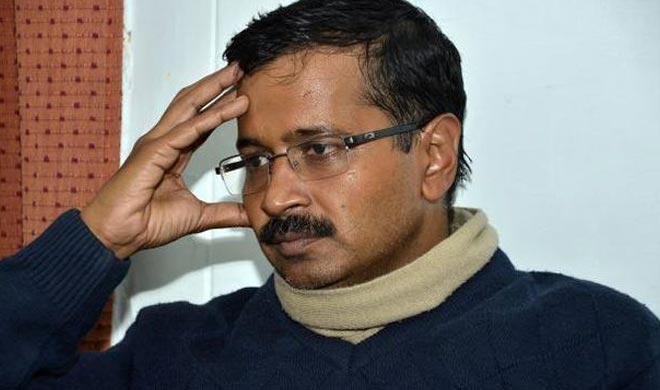 New Delhi: With two of his party's lawmakers arrested in last 24 hours,Chief Minister Arvind Kejriwal today launched an all out attack against BJP led Narendra Modi government accusing it of "sending Delhiites to jail under false cases."
Describing his government's tussle with the centre as a "holy war between Kauravas and Pandavas," referencing the epic Mahabharat, cheif minister said,"He (PM Modi) could not digest his defeat. They have put all the agencies behind us, but could not unearth a single act of corruption"
On a day Okhla MLA Amanatullah Khan became the 10th AAP legislator to be arrested by the Delhi Police, a furious Arvind Kejriwal lashed out at Prime Minister Modi for "unleashing" probe agencies like the CBI and ED after his party legislators.
"He (PM Modi) could not digest his defeat. They have put all the agencies behind us, but could not unearth a single act of corruption. It's a holy war akin to the war between Kauravas and Pandavas," Mr Kejriwal said after inaugurating the 3.40 km elevated corridor between Vikaspuri and Meerabagh in Delhi.
The Aam Aadmi Party chief warned the Prime Minister that if he "does not stop putting spanners", then BJP will meet the same fate in Punjab, Goa and Gujarat "like it did in Delhi where its strength got restricted to three MLAs."
"Nripendra Mishra monitors all the files but has failed to find corruption. In the BRT corridor case, BJP even alleged that I pocketed Rs. 15 crore, but failed to prove anything in this regard. I challenged Modiji to stop the development of Delhi. I challenge Narendra Modi to stop our reforms being brought about by our education minister Manish Sisodia," he said.
Mr Kejriwal cited an anecdote he heard in Gujarat that while political rivals are jailed in the national capital, such persons are "encountered" in the BJP-governed western state. "We are on the path of truth and we will win."
Later in a tweet, Mr Kejriwal also claimed that his government saved around Rs. 110 crore in constructing the flyover despite the Centre's "efforts to scuttle" the project.
"Another flyover inaugurated 2day. Sanctioned cost - 560 cr. Actual - 450 cr. Savings - 110 cr. This despite all efforts of Modi govt to scuttle," he tweeted.
The corridor will make five intersections on the stretch signal-free benefiting those travelling through Janakpuri, Vikaspuri, Tilak Nagar, Jawalaheri and Paschim Vihar. PWD Minister Satyendar Jain was also present at the event.
In the construction of eight-lane Bhalswa Flyover, a section of Vikaspuri-Wazirabad road project, the PWD had saved Rs. 20 crore while the agency had saved Rs. 15 crore in the construction of Burari flyover.
(With PTI inputs)