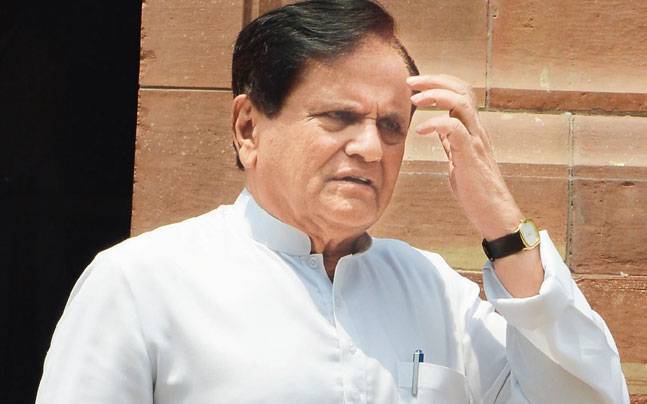 Congress Rajya Sabha MP Ahmed Patel on Sunday wrote a letter to Union Home Minister Rajnath Singh, seeking an "impartial and objective" probe into the alleged ISIS link row. 
His demand for a probe comes in the wake of the BJP's allegation that one of the two ISIS suspects nabbed by the Gujarat ATS was associated with the hospital run by Ahmed Patel's trust. 
"As a Member of Parliament of India, who has taken an oath to uphold the sovereignty and the integrity of India, I call upon you to take cognizance of the matter and as the Home Minister of India instruct relevant law enforcement agencies to take this investigation to its logical end in an impartial and objective manner, in a manner which befits such a serious offence. Those guilty, irrespective of faith or any affiliation must be brought to justice. Your government has my unstinted support in this endeavour," ANI quoted Patel's letter to Rajnath Singh as saying.
The Congress leader further said that matters of national security should not be politicised and reduced to "baselessly maligning political opponents for petty electoral gains".
Taking potshot at the BJP leaders for accusing him of sheltering ISIS suspects, Ahmed Patel said, "Framing charges must be done by law enforcement agencies and the judiciary and not by political leaders in press conferences from party headquarters."
The BJP, yesterday, accused Ahmed Patel of having "deep relations" with a Gujarat hospital where an alleged ISIS operative worked before his arrest.
"Patel has deep relations with the hospital since 1979. Sonia Gandhi and Rahul Gandhi owe an explanation to the people (on this issue)," Union minister and senior BJP leader Mukhtar Abbas Naqvi said on Saturday.
Gujarat Chief Minister Vijay Rupani had yesterday sought the resignation of Patel from the Rajya Sabha. "This is a serious issue, as a terrorist was arrested from a hospital which is being run by Ahmed Patel...Patel, Rahul Gandhi and the Congress must come clean on the issue. We also want Patel to resign as Rajya Sabha MP," Rupani told a press conference. 
Senior Congress leader P Chidambaram, who was in Gujarat's Rajkot, today called Rupani's demand "outrageous".
 
"I am amazed by this kind of outrageous demand. Ahmed Patel was a trustee of the hospital and had resigned in 2015. This person who was arrested seems to have joined the hospital as a technician last year and had resigned a couple of days prior to his arrest," the former Union minister said. 
"Now, if somebody who has joined in the last one year as a technician has ISIS connect, then how a trustee of three years ago is responsible," he asked at a press conference. 
Patel had rejected the charge as "completely baseless", and urged the BJP not to politicise matters pertaining to national security and divide the peace-loving Gujaratis. 
The Congress' communications department head Randeep Surjewala also slammed the BJP for its attack on Patel, one of the party's key stragetists and a long-standing Gandhi family loyalist, calling it a "sinister conspiracy". 
Surjewala said that neither Patel nor his family members were trustees of the hospital, named after Sardar Patel, or had any role in its administration. 
Mounting a counteroffensive, Surjewala also asked the saffron party to come clean on why the central and Maharashtra governments were clueless when underworld don Dawood Ibrahim's wife visited Mumbai and flew back to Pakistan last year. 
"Rupani has resorted to making such despicable statements and conspiracy for the BJP is afraid that 6.5 crore Gujaratis are going to reject it completely (in the Assembly polls). 
This shows the level to which the failed chief minister can stoop to out of fear of BJP's defeat," Surjewala said in a statement in the national capital. 
He alleged that the BJP-led governments and its leaders have proved to be weak in the fight against terrorism. 
Surjewala referred to the 1999 Kandahar plane hijack episode to attack the BJP, asking "didn't the previous NDA government release (extremist group Jaish-e-Mohammad's chief) Maulana Masood Azhar and others in Afghanistan?"