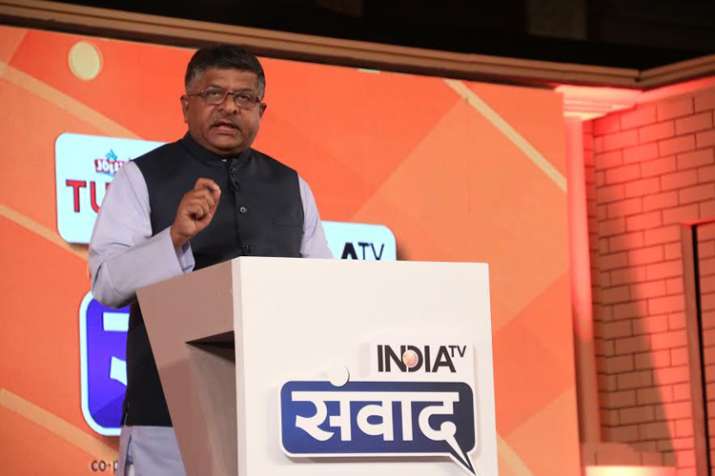 Prime Minister Narendra Modi's government stands with Muslim women on the triple talaq issue as it is a matter of "gender justice, gender equality, gender dignity," Union Minister Ravi Shankar Prasad said today. 
Holding that the issue of triple talaq was a constitutional matter, the minister said the practice is not integral to worship in Islam. 
"Triple talaq is not a part of Islamic worship and we will oppose the practice. Many Muslim-majority countries have abolished the practice," Prasad said.
"It is an issue of gender justice, gender equality, gender dignity and our government will stand by Muslim women no matter what," he added. 
The senior minister rejected the charge that the Bhartiya Janata Party (BJP) is politicising the issue. 
"I do not want to do politics on this issue, triple talaq is a social evil. It was not us who approached the court and the Muslim women who were victims of this practice approached the Supreme Court but we took a stand against it when asked by the court," he said. 
Prasad also chided political parties and said women leaders like Mayawati, Mamata Banerjee, Sonia Gandhi, Priyanka Gandhi did not speak against the triple talaq issue. 
"There are thousands of Muslim women who have been victims triple talaq practice. They have approached court, they have come out in open. They are coming out in open as their attitude has now changed," he said. 
When asked about the signature campaign by the All India Muslim Personal Law Board (AIMPLB), Prasad differed saying there were members of the Muslim community who have questioned the very legitimacy of the outfit. 
Talking about the Uniform Civil Code, Prasad said that such a law needed broad discussion in the country. 
"BJP is committed to implement Uniform Civil Code but the issue needs broad discussion. It was never our intention to politicise the issue. We did not approach the court on the matter, it was first discussed in the Constitution," he said. 
Prasad also pointed out the practical difficulties in implementing Uniform Civil Code in country as it the demography is very diverse in India. 
"Diversity is unique to India and we have to respect that diversity. There are Hindus, Muslims, Sikhs, Christians and different tribes. Bringing the Uniform Civil Code in the country needs broad discussion from all the parties," he said. 
Prasad, who also holds the portfolio of Electronics and Information Technology, said he was proud of Prime Minister Narendra Modi for promoting digital governance.