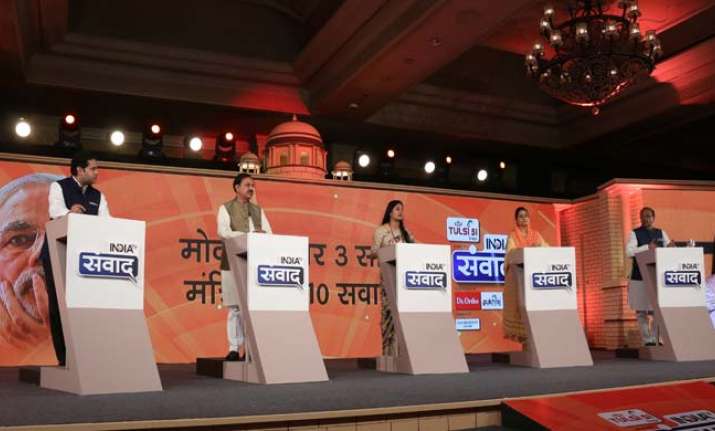 Government has done extraordinary work under the leadership of Prime Minister Narendra Modi and the trust of people in the BJP is still unwavering, Union ministers said in unison today. 
Speaking at the India TV conclave "Samvaad" at the completion of three years since the Modi government took charge, Union Minister of Culture and Tourism Mahesh Sharma said that "India has improved its ranking in tourism sector by 25 places since last three years. This is for the first time in the history of independent India when the country has cumulatively improved its ranking. Tourism helps create jobs, bring foreign currency and foreign investments." 
"What Modi government has done in a span of 3 years, was not done in a period of 70 years. All credit goes to PM Narendra Modi who has taken the tourism to a whole new level," Sharma said. 
Sharma also touched upon controversial subjects of cow vigilantism and the murder of Akhlaq in Dadri. 
"We do not support violence in the name of cow protection. Law and order is state subject but we always condemn these incidents. Either it is Prime Minister Narendra Modi or the chief ministers of BJP-ruled states, they have always spoken on these incidents and condemned them," Sharma said.
Sharma, who holds the portfolio of Tourism and Culture ministries, also responded to criticism over his statement in the Rajya Sabha that the birthplace of Sita was "a matter of faith" and there is "no historical evidence" to prove that she was born in Sitamarhi area of Bihar. 
Responding to Digvijaya Singh's statements in the House, Sharma said, "Sita ji is in the soul of India. The question was if any excavation had been done, I answered that there was no need. I said Digivijay ji that there had been grandfather of grandfather of grandfather of him but if he has any umbrella or spectacles belonging to them. I asked him if he had undertaken excavation to find those objects. He said "no" so does it mean that there was no grandfather of grandfather of grandfather of Digvijay Singh? The criticism was all political." 
Presenting a report card of her ministry, Food Processing Industries Minister Harsimrat Kaur Badal said, "FDI, GDP growth rate, ease of doing business rank shows that Modi government has worked tremendously. Modiji's vision that food processing department can help double farmers' income and we are working towards that. Food processing department can generate employment, prevent food wastage and help double farmers' income. From 2008-2014, 2 mega food parks became operational but in three years we have made 10 operational." 
Another minister at the Centre, Vijay Goel, who holds the charge of Youth Affairs and Sports, said "Teen saal, bemisaal (three years of Modi government has been tremendous). Modi ji has created a trust in the country among the people. Even during demonetisation, Modi's popularity did not diminish." 
Goel said, "Infrastructure in sports is a state subject and Centre focuses on excellence in sports. In the ministry we are focusing on broad basing of sports, excellence in sports. We are launching Sports ministry talent search portal and will give 1000 talented children will be given Rs 5 lakh scholarship per year for 8 years." 
Goel also hit out at Delhi Chief Minister Arvind Kejriwal, saying that that the latter has "broken the trust of the youth which they once had". 
Answering to India TV's question at "Samvaad", Minister of State in the Ministry of Health and Family Welfare Anupriya Patel said, "We have brought a new national health policy in 15 years. We will take the expenditure on health to 2.5 pc of GDP from 1 pc. We are focusing on preventive healthcare."