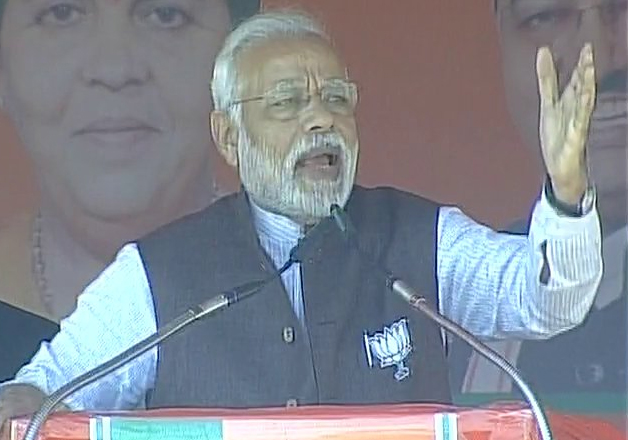 Prime Minister Narendra Modi today the last year's Kanpur train tragedy in which 150 people were killed, was a 'conspiracy' and the perpetrators carried it out 'sitting across the border' in Nepal.
Addressing an election rally in Gonda district, which is close to the India-Nepal border, the Prime Minister said that the findings showed it was a 'conspiracy'.
"The Kanpur rail accident in which hundreds of people were killed was a conspiracy and conspirators carried it out sitting across the border ... Gonda is adjoining Nepal," he said.
"If the cross-border foes want to carry out their work, is it not necessary that more vigil is maintained in Gonda?" PM Modi asked the people as he exhorted them to vote for the BJP.
"Gonda needs to elect only those who are full of patriotism, only then we can do anything good for Gonda. There should not be any mistake in this election ... be it the SP or the BSP, not a single seat should go to them ... 100 per cent seats should be won by the BJP," the Prime Minister said.
In November last year, 14 coaches of the Indore-Patna Express were derailed near Pukhraya in Kanpur Dehat district, resulting in at least 150 deaths and more than 150 injuries. The incident was the deadliest train accident in the country since 1999, when the Gaisal train disaster claimed 290 lives.
Nepalese national Shamshul Hoda, an alleged ISI agent and the prime suspect in the Kanpur train tragedy, was arrested on February 7 in Kathmandu after being deported from Dubai.
After the November train tragedy, at least 62 passengers were injured on December 28 when 15 coaches of the Sealdah-Ajmer Express derailed while it was crossing a bridge near Rura Railway Station in Kanpur Rural district.
PM invokes Lord Shiva; says people can detect truth using their 'third eye' 
Further he accused the opposition parties of spreading lies about the government's November 8 decision to scrap Rs 500 and Rs 1,000 notes to fight menaces like black money, counterfeiting and funding of terror activities. 
The Prime Minister drew an analogy between the 'third eye' of Lord Shiva and the 'intelligence' of people, saying 'people can see what is good for them and what is bad using their third eye'. 
"Many people are experts in spreading lies but the honest have a third eye like Lord Shiva. They differentiate what is right or wrong. After our decision of demonetisation, a few people are continuously spreading lies. They fear as all their wrong doings are now exposed," the PM said as he invoked Lord Shiva on the occasion of Mahashivratri.
Apparently referring to the Congress, SP and BSP's opposition to the demonetisation drive, the Prime Minister said that parties were opposed to the move since the day he began his fight against the menace of black money. 
"The poorest of the poor can detect truth. Since I took stern steps against corruption and banned notes, big forces are out to mislead the country," Modi said.
"The fight that I have started against black money will continue, we want to change the lives of common people," he added.
He also took the opportunity to thank the people of Odisha and Maharashtra for voting in favour of the BJP in civic polls. 
"BJP has fared well in all elections post-demonetisation, be it civic polls in Odisha, Maharashtra or Chandigarh or panchayat polls," he said.
"I thank people of Odisha for reposing faith in the BJP. This shows people want clean and transparent governance. Results in Maharashtra are heartening for the BJP. I thank them too. Congress has been completely sidelined by the people," he added.
While in the Odisha panchayat polls, BJP gained tremendously, in Maharashtra civic polls, the saffron party bagged 8 out of 10 corporations. 
Attacking the Samajwadi Party and Congress alliance, the PM said, "Those who have looted money are now together."
"Education system in Uttar Pradesh is gripped in corruption and crime. This adversely impacts future of the children. This must end," he said.
"Akhileshji you got your education from Australia, what about my children of Gonda?" he added.
Akhileshji aapka kunba itna aage nikal chuka hai aap Australia padhne nikal gye, Gonda ke gareeb ka kya hoga ye mera dard hai: PM Modi pic.twitter.com/hNixL7qezR

— ANI UP (@ANINewsUP) February 24, 2017
The Prime Minister also vowed to improve the condition of farmers if BJP forms the government. "We will ensure that rights of farmers are protected," he said.
"We will waive off loans of small farmers, if we come to power. I will form a task force for sugarcane farmers so that they are not cheated," he said.
#UPPolls2017 : Hum Atal ji ke sapnon ko pura karne ki koshish kar rahe hain: PM Modi addressing an election rally in Gonda, UP pic.twitter.com/RUmmuoVULw

— ANI UP (@ANINewsUP) February 24, 2017
He further said that the Congress party, whom the ruling SP has allied with, never respected the armed forces. 
"Our armed forces did a commendable task. They destroyed terror camps across the border in the surgical strike. They've made nation proud. But they (Congress) did not even take note of troubles our ex-servicemen faced," he said.
Gonda district has 7 Assembly segments. Polling will be held in the fifth phase on February 27. Results will be declared on March 11.