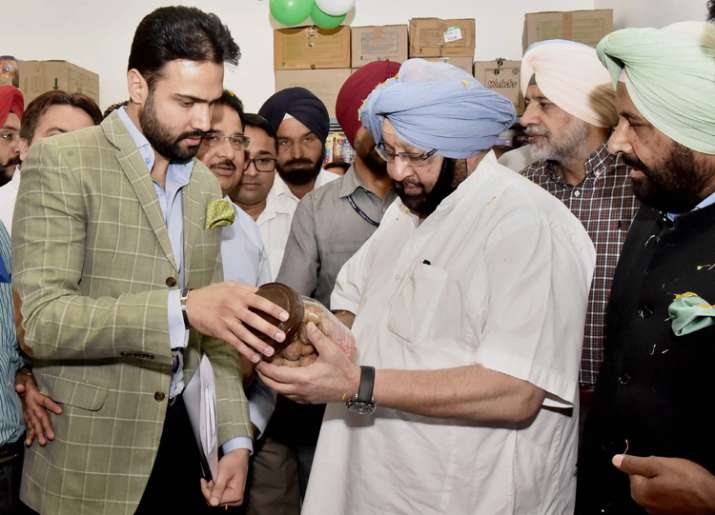 Contradicting the stand taken by the Congress on EVM tampering, Punjab Chief Minister Amarinder Singh said on Wednesday that if the electronic voting machines were tampered with he would not have been in power.
"If EVMs were fixed then I wouldn't be sitting here. The Akalis would," he said here today.
Amarinder is the second senior Congress leader after former law minister Veerappa Moily too stood up in defence of the EVMs, amid the Congress allegation of tampering of the machines.
The Congress won 77 of Punjab's 117 assembly seats, ending the decade-long rule of the Akali-BJP combine.
The Congress has called for going back to old ballot paper amid reports of alleged EVM tampering in the recent assembly polls.
Joining other opposition parties, the Congress has alleged that the electronic voting machines were rigged that helped the BJP sweep assembly elections in Uttar Pradesh and Uttarakhand.
At the AICC briefing, senior Congress spokesperson Ghulam Nabi Azad said the entire party is united in its view that something is wrong with EVMs and and the Election Commission needs to satisfactorily address the issue. 
"If somebody has said something, it is in his personal capacity, let it be very clear on this. It is his personal opinion and not of the Congress," Azad said when asked about Moily's remarks. 
Moily, Law Minister in the erstwhile UPA government when EVMs were introduced, said he had got the machines technologically examined at the time and it was found that there was nothing wrong in them. 
"But that does not mean that today also they are okay ...Now there are apprehensions by opposition leaders, and since questions have been raised, it needs to be examined and that is what the EC has agreed to," he said. 
Rejecting the ballot paper system, Moily said, "It is not a progressive step and we have to move forward on technology." 
The Election Commission today threw an "open challenge" to people to hack its EVMs.
"From first week of May, experts, scientists, technocrats can come for a week or 10 days and try to hack the machines," an official source said.