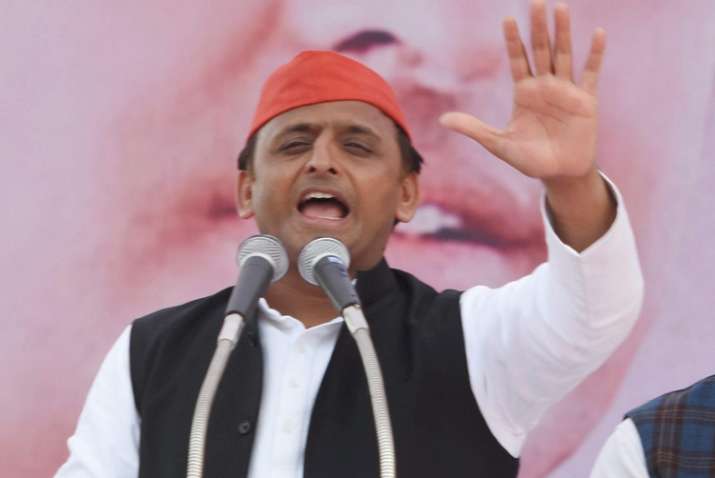 A day after Prime Minister Narendra Modi questioned as to how Akhilesh Yadav could form a coalition with "those who tried to murder" his father Mulayam Singh Yadav, Uttar Pradesh Chief Minister said Modi's advisors could have done better by telling him to cite a more recent example of Firozabad when Congress had defeated SP in 2009 Lok Sabha bypoll. 
"Why did he travel so far to 1984 to create anger in me against Congress. He could have mentioned Firozabad where Congress' state unit chief (Raj Babbar) defeated us (in bypoll)," he said, adding they were revisiting such an old incident only because they have already "lost" the elections. 
Making light of the Prime Minister's "inexperience" barb at him, Akhilesh said he has learnt to cycle fast so that neither BSP's elephant nor BJP's lotus can come anywhere near the SP. 
"They termed me as inexperienced but one can ride the bicycle (SP symbol) only after falling down at least once...I have learnt to ride bicycle and that too with great speed so that neither the elephant nor the lotus can come anywhere near," he said. 
Akhilesh was addressing an election meeting in Karhal town here, attacking BSP, whose symbol is elephant and BJP, which has lotus symbol. 
"Modiji said in Kannauj that by entering into an alliance with Congress, I have shown inexperience...we have done this so as to remove all doubts among people about government formation...we have done this to form government and remove communal forces," he said. 
On the 'achchey din" slogan, he said, "BJP people say SP could not bring achchey din...this was the slogan of BJP it was never given by the Samajwadis." 
"Modi cannot see my kaam (work) but karname (deeds)...I say you will get to see my 'karnama' on the 19th when the people will vote for us once again," he said. 
On the BJP's promise of loan waiver for farmers, he said, "I want to ask what has their government done in Madhya Pradesh and Maharashtra (where farmers are committing suicide...first you help farmers of Maharashtra". 
Both Gujarat and Maharashtra are ruled by BJP. Stressing that he had no confusion that "SP is not my party but that of Netaji (Mulayam)", Akhilesh said the path of politics is ridden with ditches. 
"I have taken my exam in politics...had to do what I did as per the circumstances and time," he said. 
"If Modiji wants to see my work, I will tell him to see the Agra-Lucknow Expressway...it will open his eyes...it will be remembered for long just as the GT Road is remembered even today," the chief minister said. 
At an election meeting in Kannauj, Modi had yesterday said Akhilesh lacks experience and hence does not know, unlike his father, how "cunning Congress people are". 
"Akhileshji ko abhi anubhav kum hain, Congress wale kitne chatur hain inko samajh nahi aata... Mulayam ji ko toh pata tha (Akhilesh has less experience. He does not understand how cunning Congress people are. Mulayam knew about it)," he said. 
"I want to ask how Akhilesh forgot the attack carried out on Mulayam Yadav by Congress in 1984...What can be more shameful than befriending those who tried to murder one's father?...They cannot be pardoned," the Prime Minister had stated seeking to drive a wedge between SP and its fledgling alliance partner Congress.
Akhilesh does 'kaam ki baat' not 'mann ki baat': Dimple Yadav 
In an apparent dig at PM Modi's monthly radio address 'Mann Ki Baat', Akhilesh Yadav's wife  Dimple said that UP CM is more interested in doing "kaam ki baat" (practical work) rather than "mann ki baat."
"Akhilesh Yadav mann ki baat nahi karte, balki kaam ki baat karte hain (Akhilesh Yadav believes in action rather than just words). The people should vote him to power again so that Uttar Pradesh continues to be on the development path," she said at a rally in Arya Nagar constituency. 
"He is the son of Uttar Pradesh. He dreams about its development. He is focused on providing employment opportunities, pension to women, better roads, laptops to students, power supply etc to the people of the state," she said. D
(With PTI inputs)