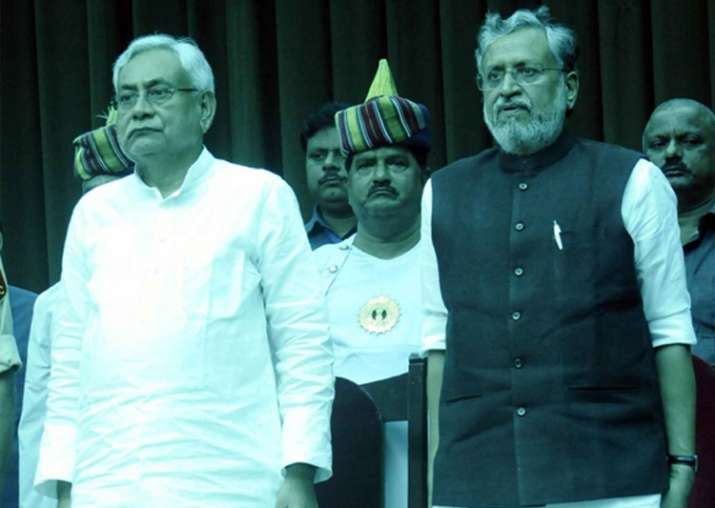 Janata Dal (United) national president Nitish Kumar today took oath as Bihar Chief Minister as the head of a JD(U)-BJP government, within hours of dumping the Grand Alliance. This is Nitish's second innings in the last two years. He snapped ties late on Wednesday with Magagathbandhan partners RJD and the Congress over corruption charges against RJD leader and Deputy chief minister Tejashwi Yadav.
BJP's Sushil Kumar Modi was sworn in as Deputy Chief Minister. The BJP offered unconditional support to Nitish Kumar after he resigned as Chief Minister on Wednesday. Nitish Kumar's resignation came nothing short of a bombshell for many who were expecting the CM to instead act against his deputy. The change of guard has left many stumped. While some have remained guarded in reacting, others chose a war of words.  
Here's who said what:
Narendra Modi, Prime Minister of India: Congratulations to Nitish Kumar ji & Sushil Modi ji. Looking forward to working together for Bihar's progress & prosperity.
Congratulations to @NitishKumar ji & @SushilModi ji. Looking forward to working together for Bihar's progress & prosperity.

— Narendra Modi (@narendramodi) July 27, 2017
Nitish Kumar, Bihar CM: Whatever decision we have taken will be in the interest of Bihar and of its people. It will ensure development and justice. It will also ensure progress. This is a collective decision. I ensure that our commitment is towards the people of Bihar.
Sushil Modi, Deputy CM of Bihar: The JD(U)-BJP alliance had earlier taken Bihar to new heights. At that point of time, the people of the state used to take pride in saying 'I am a Bihari'. But in the last 20 months something went wrong. But now the JD(U)-BJP alliance will again take Bihar to newer heights.
बिहार के उप मुख्यमंत्री पद का शपथ लेने के बाद प्रदेश भाजपा कार्यालय में आयोजित अभिनंदन समारोह में... pic.twitter.com/oGAAaNuVnO

— Sushil Kumar Modi (@SushilModi) July 27, 2017
Rahul Gandhi, vice-president of Congress: He (Nitish) had joined hands with us in the anti-communal fight, but Nitish Kumar, for his personal politics, joined hands with those against whom he had fought. This is the problem in India's politics. In politics you come to know of what is going on in the minds of people. Clearly, I knew Nitish ji is planning. We knew this was going on for the last three-four months.
Lalu Yadav, RJD supremo: Nitish Kumar is greedy for power, he has betrayed the people of Bihar and India. Nitish Kumar joined hands with BJP to ensure raids by CBI, ED on RJD leaders and to malign them. We're considering to appeal in Supreme court against Governor's decision. We are taking legal advice and will move court after that.
KC Tyagi, JD(U) spokesperson: The Congress was neither serious about fighting corruption nor about any opposition bloc. It was a blunder on our part to trust the Congress, which does not have any credibility. Will support Modi government in both Houses of Parliament.
Jitan Ram Manjhi, former Bihar chief minister: I congratulate Nitish Kumarji for his decision to join the NDA. If someone commits a mistake and has the guts to accept and rectify it, we should also welcome it and support that person.
Tejashwi Yadav, former Deputy CM of Bihar: My performance perturbed our ally and BJP. Vendetta against me exposes their viciousness. I entered in govt with a clean slate with a keen desire of writing a positive story for people of Bihar, only to find an opportunist rival.
Raghuvansh Prasad, RJD leader: This is against the people's mandate. He (Nitish) will have to face the music. He was not a trustworthy person.
Digvijaya Singh, Congress leader: Were they missing a train? Seemed like there is some theft or burglary going on... No morality at all. Nitishji has always talked about morality. Is this morality? People voted for you for going against the BJP-Sangh. If there was a problem with Tejashwi, Nitish Kumar should have suspended him, or called a Congress-JD(U)-RJD meeting. Betraying the Mahagathbandhan is not ideal.
Mallikarjun Kharge, Congress leader: BJP tried all tactics to destabilize states where opposition had government.
JP Nadda, Union minister: After Nitish Kumar's resignation, the BJP is trying to bring stability in Bihar so that such political crisis doesn't arise. BJP wants development in Bihar. Nitish's step against corruption is a courageous one.
Bhai Birendra, RJD MLA: The decision was taken in haste. Nitish Kumar is not worried about the people of Bihar, he was eyeing the chair only.
Ram Vilas Paswan, Union minister: When the (coalition) government was formed, I had said it would not last for more than two and a half years.