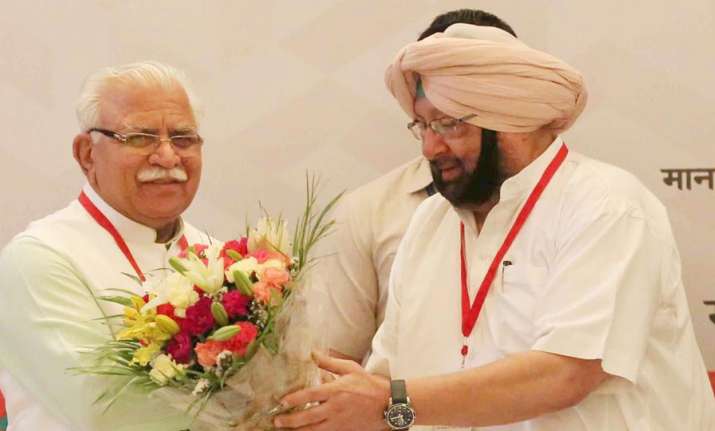 The arrest of Dera Sacha Sauda chief Gurmeet Ram Rahim Singh's controversial adopted daughter Honeypreet has sparked an intense war of words between the chief ministers of Punjab and Haryana.
Honeypreet, charged with sedition and alleged role in igniting violence following the Dera chief's conviction, had evaded arrest for 38 days, turning out to be a huge embarrassment for the Haryana government.
Her appearance before television cameras made things worse for the BJP-led Haryana government which was already facing fire from courts over its shoddy handling that led to the violence.
Two days after Honeypreet's arrest on October 3, Khattar came out before the media and suggested the complicity of Punjab police in Honeypreet evading arrest for 38 days.
 "Daal mein kuch kaala lagta hai (There appears to be something fishy)," he said when asked about the possible role of Punjab police in the episode.
"I feel whenever Punjab Police got the information, they should have shared it with Haryana Police and handed her over to them. Whatever delay happened in this, whatever information is available, many things will come out in Honeypreet's interrogation, which is still on. Punjab policemen were arrested, their vehicles were seized. Certainly, there was something fishy," he said.
The remarks by Khattar drew a sharp response from Punjab CM Amarinder Singh, who advised Khattar to refrain from "such fabrications to shield his own government's failure in the Dera Sacha Sauda case".
"After trying unsuccessfully to pin the blame for the Panchkula violence on the Punjab government, Khattar is now trying, once again, to divert public attention from the total collapse of the law and order that gripped Haryana since the day the Dera chief was found guilty," he said.
"Punjab Police had been giving regular inputs to their counterparts in Haryana even before the Panchkula court hearing in the Ram Rahim case, but the Haryana government and its police failed to take cognizance or act on the information," Singh added.
On Tuesday, Honeypreet, in an interview to a news channel, claimed that she was innocent. Describing the allegations against her as "baseless", she said that she was falsely implicated in the sedition case.
The Delhi High Court, on September 26, dismissed her anticipatory bail plea. A court in Panchkula had in September issued arrest warrants against top Dera functionaries -- Honeypreet, Aditya Insan and Pawan Insan. All three were booked by the Haryana Police on charges of sedition, inciting violence and being involved in a conspiracy to help the Dera chief escape after his conviction by a Central Bureau of Investigation (CBI) court on August 25 on two counts of rape of female disciples in 1999.