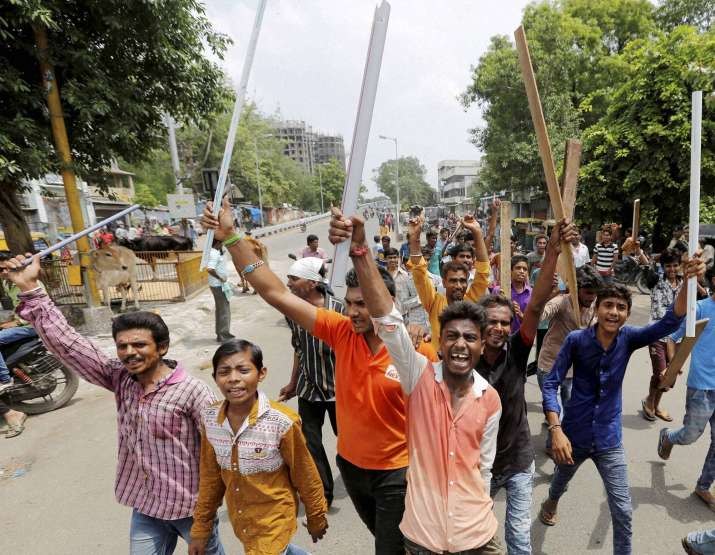 Ahmedabad: Gujarat on Wednesday witnessed violent protests and sporadic clashes during a state wide Bandh called by Dalit outfits over thrashing of seven Dalit youth in Una last week alleging that they had killed a cow which they were skinning.
Protesters took to the streets, downing shutters, attacking public transport and halting trains and vehicle traffic. Police said Dalits groups clashed with police teams at several places.
With the whole issue snowballing into a major political controversy, Opposition parties are trying to make the political capital out of it.
Congress vice president Rahul Gandhi will today visit Una town and meet the men who were flogged and shamed.
Gandhi was yesterday found taking a nap in the Parliament when the case of atrocities against Dalit youth in Gujarat was raised.
Delhi Chief Minister Arvind Kejriwal is also set to visit Gujarat on Friday, his second visit in a fortnight, to meet the members of the Dalit community.
Meanwhile, Gujarat Chief minister Anandiben Patel Wednesday visited Una town and met the victims and the family members.
The chief minister assured them that the government has taken all measures to ensure that the victims get justice.
"The scene of beating of Dalits will be disturbing to anyone who witnesses it. The beating, in the manner it took place, is not becoming of any civilised society. The state government has done everything possible, including arrest of the accused, and (facilitating) hospitalisation of the injured," Patel said after the meeting.
Slamming Gandhi, Bahujan Samaj Party (BSP) supremo Mayawati said it showed his lackadaisical attitude towards the sensitive matter.
Congress president Sonia Gandhi yesterday asserted in her party's parliamentary party meet that Prime Minister Narendra Modi-led Government has snatched away the rights of 'adivasis', Dalits and traditional forest dwellers under the Forest Rights Act 2006 and was systematically weakening and subverting environmental rights.