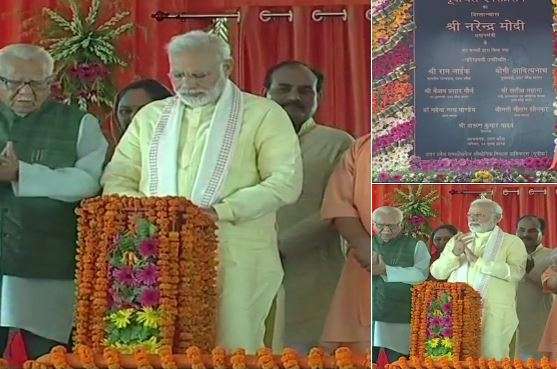 Gorakhpur, the constituency that was represented in Parliament by Yogi Adityanath for five-consecutive terms, will soon be connected via an expressway, announced Prime Minister Narendra Modi on Saturday in Azamgarh district.
PM Modi was in Azamgarh to lay the foundation stone of Rs 23,000-crore Purvanchal Expressway. After the event, PM Modi will travel to his Lok Sabha constituency Varanasi where he will address a public gathering and also meet BJP workers at DLW guest house. 
Catch all the latest news about Lok Sabha elections 2019 HERE
On July 15th, the PM will visit Mirzapur, where he will dedicate the Bansagar Canal Project to the nation. This project will provide a big boost to irrigation in the region and will be greatly beneficial for the farmers of Mirzapur and Allahabad districts of Uttar Pradesh.
At the same event, PM Modi will lay the foundation stone of the Mirzapur Medical College. He will inaugurate 108 Jan AushadhiKendras in the state. He will also dedicate a bridge over the River Ganga at Balughat, Chunar, which will facilitate connectivity between Mirzapur and Varanasi.
Catch all the latest news about Indian politics HERE
It is pertinent to mention here that Lok Sabha elections 2019 are due in the month of April-May next year to constitute the 17th Lok Sabha. 
To woo the voters ahead of the polls, BJP leaders have started addressing rallies in different parts of the state.   
WATCH VIDEO: PM Modi lays foundation stone of Poorvanchal Expressway at Azamgarh, Uttar Pradesh