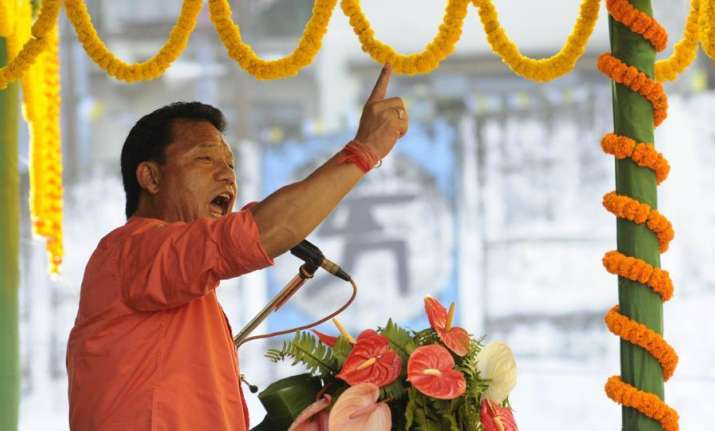 The Gorkha Janamukti Morcha is pushing with renewed vigour after violence, it has also called for an indefinite shutdown in the northern West Bengal hills. Police on Thursday raided GJM chief Bimal Gurung's house in Patlebas in Darjeeling district and seized a large cache of arms.
"A raid is going on in Bimal Gurung's house since morning. Several arms have been already recovered," Akhilesh Kumar Chaturvedi, the Superintendent of Police of Darjeeling district said. However, he refused to disclose any details about the types and quantity of arms seized by police. 
As per the latest reports coming in, a media vehicle is set on fire by GJM supporters and stone pelting on security forces, reports ANI.
#Darjeeling: A media vehicle set on fire by alleged Gorkha Janmukti Morcha supporters, stones pelted on security forces. #Gorkhaland pic.twitter.com/OsdcyBglXI

— ANI (@ANI) June 15, 2017
According to police sources, huge cache of arms and ammunitions including bow and arrows, knives, axes and cartridges were seized from the house. The raids come a day after Bimal Gurung announced that the agitation for a separate Gorkhaland will continue and asked tourists to avoid visiting Darjeeling. 
Responding to the sudden raid, state Bharatiya Janata Party (BJP) leader Rahul Sinha claimed such drastic steps may worsen the situation in the hills and urged Chief Minister Mamata Banerjee to call an all-party meeting in the Bengal hills to solve the situation.
"Mamata Banerjee provoked the unrest in the hills and now she is making the situation even worse with these steps. She should immediately call an all-party meeting in Darjeeling to listen to their demands and sort out the situation," Sinha claimed.
However, he clarified that BJP is in no way supporting the GJM's demand of a separate state of Gorkhaland. "We have never supported the Gorkhaland demand, nor do we support it now," he added.
What stoked the fire was the "forced imposition of the Bengali language", protests against this rule have now transformed into renewed demands for a separate Gorkhaland.