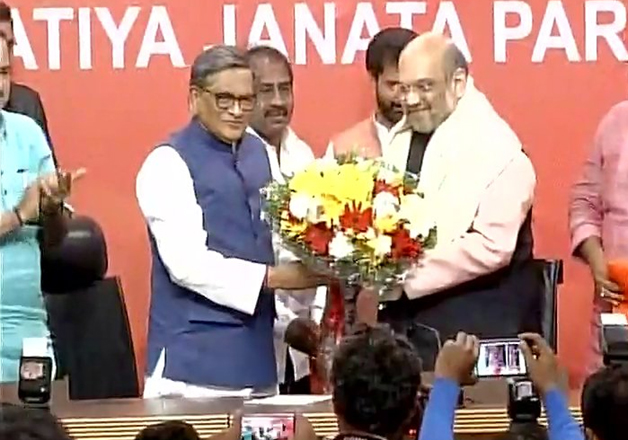 Almost two months after he quit the Congress, former Karnataka chief minister SM Krishna today joined the Bharatiya Janata Party (BJP) in the national capital in the presence of party president Amit Shah, Union Ministers Anant Kumar, Sadanand Gowda and MP Prahlad Joshi.
The veteran leader described the step as 'a very important stop in my onward journey'.
He also took the opportunity to praise Prime Minister Narendra Modi's works, saying "India has progressed because of the leadership of PM Modi and Amit Shah."
"Today I am deeply humbled to join the BJP which has given great glory to nation and I re-dedicate myself to the BJP and cause of the nation," he added.
Former Foreign Minister SM Krishna joins BJP pic.twitter.com/spM3fceBIF

— ANI (@ANI) March 22, 2017
Recalling his friendship with former prime minister Atal Bihari Vajpayee and BJP stalwart LK Advani, the leader said, "Atal Bihari Vajpayee is one of the tallest PMs we had. I had special relationship with him. I am grateful today that I am joining the BJP which was led by great leader Vajpayee and Advani."
Krishna was scheduled to join the BJP on March 15, but had to postpone it due to the death of his sister. 
Krishna (84) had announced his resignation from the Congress on January 29, saying the party was in a 'state of confusion' on whether it needed mass leaders or not. 
"I felt for some time that Congress doesn't need me, the party now depends on situation managers. They do not want time-tested leaders and workers," he had said.
Krishna, who was the Karnataka CM from 1999 to 2004, had returned to state politics after stepping down as then External Affairs Minister in 2012. He has also served as the Governor of Maharashtra.