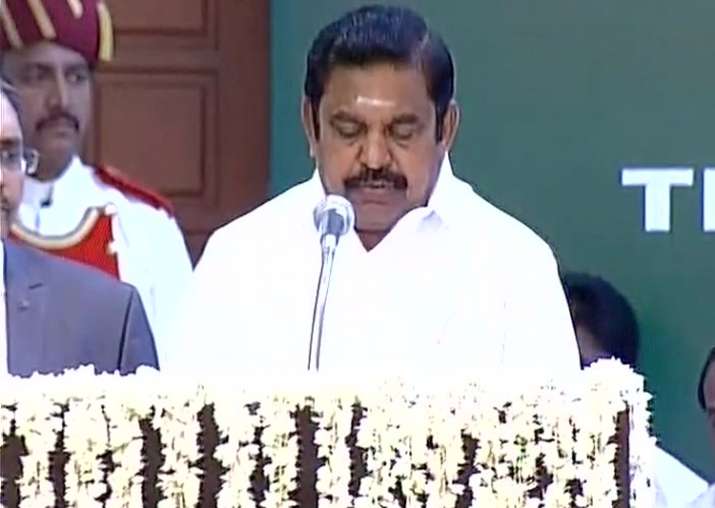 Jailed AIADMK supremo VK Sasikala loyalist Edappadi K Palaniswami was today sworn in as the new Chief Minister of Tamil Nadu this evening.
Live Updates: 
* Chennai: E. Palanisamy takes oath as Tamil Nadu CM
Chennai: E. Palanisamy takes oath as next Tamil Nadu CM pic.twitter.com/LaRxCgGvsZ

— ANI (@ANI) February 16, 2017
* 31 ministers, including Palaniswamy, to be sworn in by the Governor today
31 ministers including Tamil Nadu CM E. Palanisamy to take oath today. pic.twitter.com/Jlt5tQcOuf

— ANI (@ANI) February 16, 2017
* Palaniswamy to be sworn in as Tamil Nadu Chief Minister at 4:30 pm
Also Read: Edappady K Palaniswami: From an ordinary party member to CM probable 
We will not let the party (AIADMK) go into the hands of few of #VKSasikala's family members: #OPanneerselvam (file pic) pic.twitter.com/DMxKrNy93t

— ANI (@ANI) February 16, 2017
* Except that Panneerselvam all 134 MLAs are with us. I've learnt swearing in will be around 4-4.30pm: Senior AIADMK leader M Thambidurai
Not divided there are no factions only #OPanneerselvam is apart & his question shouldn't arise because he isn't party member: M. Thambidurai pic.twitter.com/c3H9KKzsOd

— ANI (@ANI) February 16, 2017
* This is people's victory, we will carry forward Amma's legacy in the coming days: Senior AIADMK leader M Thambidurai
* ​AIADMK MP V Maitreyan from Panneerselvam's faction to meet Election Commission officials in Delhi at 2.45 pm
Tamil Nadu: #VKSasikala's supporters raise slogans against #OPanneerselvam outside Golden Bay Resorts in Kovathur pic.twitter.com/RkQe4Pb0Tg

— ANI (@ANI) February 16, 2017
* Governor appoints Palanisamy as CM of Tamil Nadu, asks him to seek vote of confidence in 15 days: Raj Bhavan statement
#FLASH Governor invites AIADMK's legislature party leader Edappadi K. Palanisamy to form government: AIADMK pic.twitter.com/eV85HJQboi

— ANI (@ANI) February 16, 2017
* Palaniswami to be invited to form government in Tamil Nadu; oath this evening: AIADMK source
* Senior AIADMK leaders to accompany Palaniswami during meeting with TN Governor: Jaya TV.
* Five member team including Palaniswami and KA Sengottaiyan leaves Golden Bay resort, to meet Governor at Raj Bhavan shortly
* Governor invites AIADMK's legislature party leader Palaniswami: AIADMK
#FLASH: E.Palanisamy to meet Governor C.Vidyasagar Rao at 12.30 pm (file pic) #TamilNadu pic.twitter.com/i27w2PmtD0

— ANI (@ANI) February 16, 2017
The decision puts an end the political crisis in the state that has derailed the ruling AIADMK. The party has 135 MLAs in the 234-member House.
Palaniswami was hand-picked by AIADMK supremo Sasikala on Tuesday after the Supreme Court convicted her in Rs 66 crore disproportionate assets case, thus halting her ambition to capture power in the state. 
Yesterday, Palaniswami had met the Governor twice and handed over the letters of MLAs backing his candidature for the top post. The 62-year-old leader, the state Minister for Highways, Public Works and Minor Ports, had asserted the support of 123 MLAs, more than the majority mark in the 234-member assembly. 
Meanwhile, the appointment of Sasikala's close relative TTV Dinakaran to the post of AIADMK Deputy General Secretary in her absence has created rumblings within the Sasikala faction, as one of its organising secretaries, Karuppasamy Pandian, has switched over to the rivalry camp.
In another development, the opposition DMK has asked all its MLAs to be present in Chennai as the Assembly can be convened to verify support of legislators to the CM aspirants. Most of the party MLAs have converged in the city.