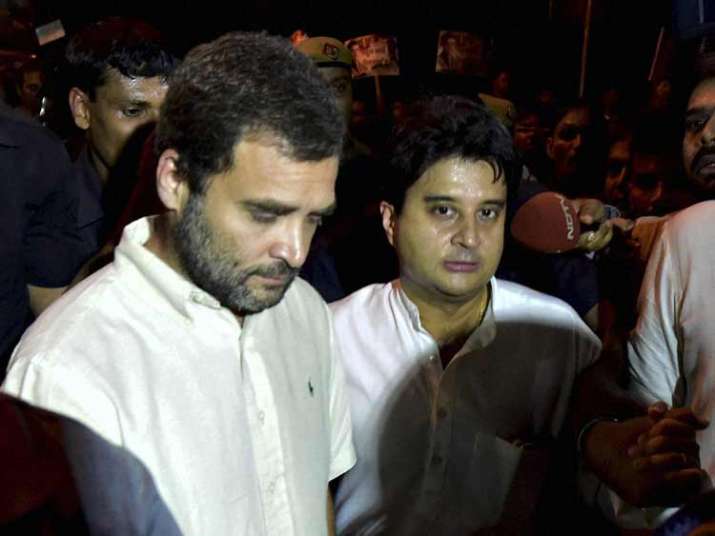 For the third time in two days, Congress vice-president Gandhi was today detained by the Delhi Police when he was at the Jantar Mantar in Delhi to lead a protest march over the suicide of ex-soldier Ram Kishan Grewal, allegedly due to his grievances in implementation of OROP. 
He was released after two hours in detention. 
Rahul was leading a candle light march organised by the Delhi Congress unit from Jantar Mantar to India Gate when police personnel restrained him and whisked him away on a van. He was first taken to 5 Firoz Shah Road and later to Tughlak Road Police Station where he was kept for nearly two hours. 
The police action triggered sharp reactions from the Congress leadership which accused the Narendra Modi government of making a "mockery of democracy" and likened the situation to an "undeclared Emergency". 
Speaking to reporters after his release, Rahul claimed police refused to lodge his complaint over his detention. 
"If police refuses to accept the complaint of an MP, imagine the plight of the common man. How will they accept their complaints? Yeh Modi ji ka naya Hindustan hai (This is the new India of Modi)," Rahul said. 
Police sources claimed that Rahul wanted to lodge a complaint of "kidnapping" against it, however, he "later changed his mind." 
Police also claimed that Rahul refused to get off the police vehicle at Firoz Shah Road, forcing them to take him to Tughlak Road Police Station. 
"Rahul Gandhi was detained at Tolstoy Marg when he continued his candle march towards India Gate in spite of repeated requests not to proceed. He along with other leaders was brought to police station, Tuglak Road, and were released," police said in a statement. 
The police action enraged Congress leadership, prompting former Union minister Salman Khurshid, former Delhi Chief Minister Sheila Dikshit, Congress spokesperson Randeep Singh Surjewala and DPCC chief Ajay Maken to hit out at the Centre, under which the Delhi police functions. 
Earlier, confusion prevailed on whether Rahul was detained or not as police kept on claiming that the Congress leader was not detained but merely taken away from the protest site keeping his security in mind. 
A police official said the action was taken keeping Rahul's security in mind as the crowd at Jantar Mantar was swelling by the minute. 
Rahul, however, claimed in a tweet: "Was detained by Delhi police and taken away from Jantar Mantar." 
twitter:twitter.com/OfficeOfRG/status/794178139626741761}
Rahul Gandhi detained by Delhi Police. He is in a police vehicle at 5 Firozeshah Road. pic.twitter.com/ISES7UEgrZ

— Congress (@INCIndia) November 3, 2016
"Police vehicle was stopped at 5, Feroze Shah Road, enroute to Tughlak Road PS," he tweeted. 
At Firoz Shah Road, Rahul told reporters, "I have only one thing to say that the way the family was treated was wrong and it may affect the morale of the army. The police should at least apologise to the family. Prime Minister should apologise to the family, accept what he did was wrong and deliver OROP. 
"The Prime Minister should act on 7th pay commission. He lied that OROP has been implemented. That's why the gentleman killed himself. His family was disrespected and humiliated," he said. 
"I have only one thing to say that the way the family was treated was wrong and it may affect the morale of the army. The police should at least apologise to the family," he told reporters. 
Rahul Gandhi said that he only demands Prime Minister Narendra Modi to apologise to the family of deceased soldier. 
"We have been asked to remain in the car by police, they are not telling where are they going to take us now," Rahul Gandhi said. 
He said that he was told by the Police that they were being removed because section 144 was in effect.  
"We have been inside the car for past half an hour, and not being let out. They are not even taking us to a police station," Rahul said, who was sitting in a car with another Congress leader Jyotiraditya Scindia. 
The Congress claimed that requisite permission for a peaceful protest and march was taken by the party. 
Gandhi was detained twice yesterday when tried to meet the family of Subedar Grewal, who committed suicide on Tuesday by consuming poison, allegedly over One Rank One Pension (OROP) issue. 
Earlier in the day, Rahul attended the funeral of Grewal at his village in Bhiwani in Haryana.
Congress has organised a massive protest at the Jantar Mantar against the treatment meted out to the family of ex-soldier.