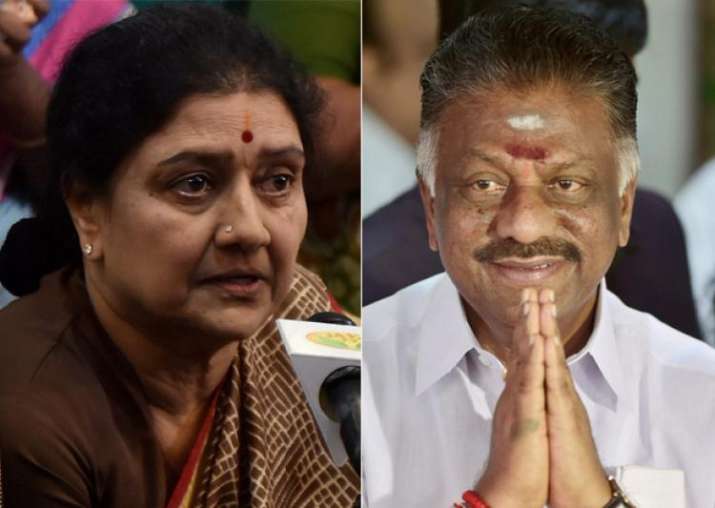 A day after barring the rival AIADMK factions from using the undivided party's "two leaves" symbol for a by-election, the Elelction Commission on Thursday allotted new symbols to O Panneerselvam and VK Sasikala-led factions. 
While the OPS-led faction was allotted a new symbol of 'electric pole' – by the Election Commission for contesting polls, the new party will also get a new name. Panneerselvam's new party will now be called 'AIADMK Puratchi Thalaivi Amma.'.
Meanwhile, the Sasikala-led AIADMK faction has been allotted a 'hat' as its party symbol. Her party will now be known as 'AIADMK Amma'.
The Sasikala faction was earlier asked to chose from three options - cricket bat, cap or an auto-rickshaw - by the poll panel after which they settled for 'hat' as their party symbol. It was also reported that the Sasikala faction was earlier allotted 'auto-rickshaw' as the party symbol but they pressed for 'hat'.
Interestingly, the poll panel allowed the two sides to retain the word 'Amma' in their new party names.
The poll panel had last night said that both groups shall be known by such names as they may choose for their respective groups, showing, if they so desire, linkage with their parent party. 
"Both the groups will also be allotted such different symbols as they may choose from the list of free symbols notified by the Election Commission," it said. 
The decision comes on last day of nomination for the RK Nagar bypoll which was necessitated following the demise of former Tamil Nadu chief minister J Jayalalithaa who was elected from the seat. 
E Madhusudhanan of the OPS camp today filed his nomination at R K Nagar. T T V Dinakaran of the Sasikala faction and Maruthu Ganesh of DMK will also be contesting the bypoll.
On Wednesday, the EC had ordered to freeze the  'two leaves' election symbol of the party ahead of the by-poll in RK Nagar Assembly, a constituency represented by J Jayalalithaa before her death.
Both the factions want to contest the April 12 RK Nagar assembly bypoll on the AIADMK symbol and have fielded their respective candidates. March 23 is the last date of filing nominations for the byelection.