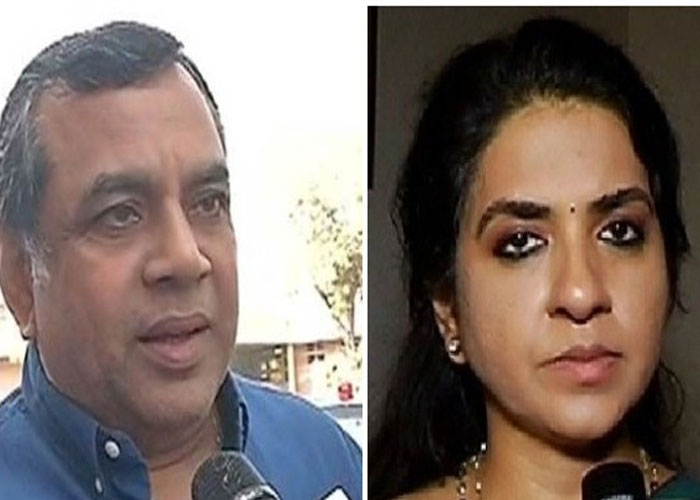 A day after a tweet by actor-politician and BJP MP Paresh Rawal kicked up a storm on social media when he suggested that noted author Arundhati Roy be tied to the Army jeep instead of stone-pelters, Bharatiya Janata Party (BJP) leader Shaina NC today reacted saying the actor should not had dragged a woman into this controversy irrespective of her ideology.

 

"Paresh Rawal is entitled to his opinion when it comes to stone pelters and that could be an emotion echoed by many people. However, to drag a woman into this controversy or for that matter, disrespect any woman irrespective of her ideology needs to be thought over again," Shaina told ANI.

 

However, another BJP leader S. Prakash took a different stand and told ANI that "Paresh Rawal is known for making sarcastic remarks on Twitter. It should not be taken seriously every time. Look at on the lighter side of it and don't over blow it,".

 

The actor-politician's Twitter storm drew reference from a similar incident when a Kashmiri resident was tied to a jeep last month.

 

Congress slammed Rawal's tweet, and said it clearly demonstrates the 'dictatorial mentality' of the actor and the BJP.

 

Talking to ANI, Congress leader Shobha Oza said Paresh Rawal has used freedom of communication and speech in his tweet to silence people who think different from him.

 

Echoing similar sentiments, Janata Dal (United) leader Sharad Yadav said Paresh Rawal's tweet was condemnable and he should refrain himself from making such comments.

 

"Instead of tying stone pelter on the army jeep tie Arundhati Roy!" the Lok Sabha member tweeted on late Monday night.
An award-winning writer, Arundhati Roy, is known for her controversial views on Kashmir. She has also widely criticised the Army's role in the Valley.

 

In April, a Kashmiri resident, allegedly a stone-pelter, was tied to an Army jeep as a human shield and incident sparked an outrage in the valley, following which an inquiry was launched into the incident.

 

Major Gogoi, who tied the man to his jeep, was awarded Chief of Army Staff's (COAS) Commendation Card for his sustained distinguished service till now in counter-insurgency operations in the state.

 

Major Gogoi's act has the political sphere split vertically. While one section – largely the NC and the opposition --  have called it a travesty of human rights, the government has maintained that the act by Major Gogoi was innovative thinking that saved many lives.

 

Speaking out on the incident before the media, Major Gogoi said that the man he tied on the jeep was a stone-pelter and was instigating crowds.

 

"Stones were pelted at us from all sides, my focus was to protect the polling staff, we managed to save 12 lives," Major Gogoi said.
(With agency inputs)