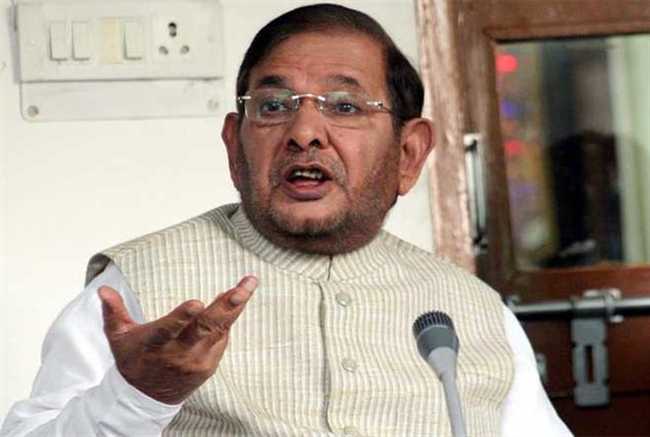 Disqualified from the Rajya Sabha last night, Sharad Yadav today claimed the decision is a part of a "conspiracy" as the ruling BJP is in "panic" mode due to his efforts to bring together Opposition parties against it.
Prime Minister Narendra Modi may have succeeded in winning over JD(U) president and Bihar Chief Minister Nitish Kumar but he will continue to fight against his government and rally Opposition parties against it, Yadav said at a public meeting in Gujarat, according to a statement issued by his faction. 
The former JD(U) chief was disqualified as an MP yesterday as Rajya Sabha Chairman M Venkaiah Naidu agreed with the party's contention that he had "voluntarily given up" its membership due to his "anti-party activities". 
"I had succeeded in forming a government in Bihar by bringing together Opposition parties. Modi won over Nitish Kumar to break this unity but I continued with my efforts. Panicked by this, my membership was terminated as a part of conspiracy," he said. 
In the statement, Arun Shrivastava, a senior leader of the faction led by Yadav, termed the disqualification undemocratic and unconstitutional. 
Yadav's claims come a day after he and another rebel JD(U) leader Ali Anwar were disqualified as Rajya Sabha members. 
Rajya Sabha Chairman M Venkaiah Naidu took the decision under the Tenth Schedule Para 2 (a) (i) of the Constitution, while acting on JD(U) chief Nitish Kumar-led JD(U)'s petition seeking their disqualification.
Both MPs had attended an Opposition rally in Patna organised by Lalu Prasad's RJD after JD(U) president and Bihar chief minister Nitish Kumar walked out of the 3-party Grand Alliance and joined hands with the BJP.
JD(U) then wrote to the Rajya Sabha chairman, seeking their disqualification for "anti-party" activities.
The party claimed there were precedents of MPs getting disqualified for anti-party activities.