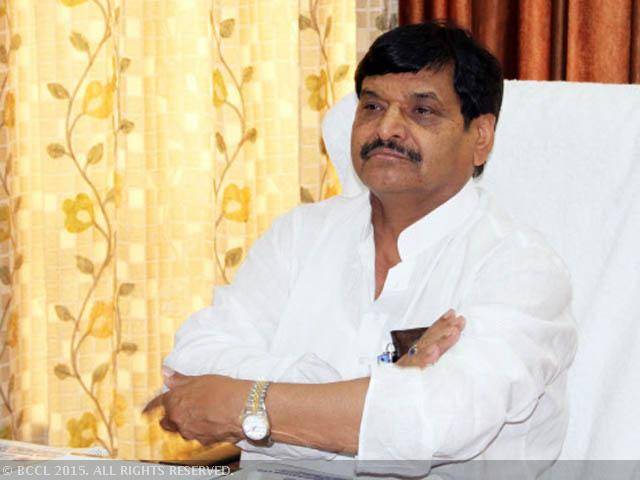 In a development that does not bode well for Samajwadi Party in Uttar Pradesh, disgruntled party leader Shivpal Singh Yadav on Wednesday floated  'Samajwadi Secular Front' ahead of 2019 Lok Sabha elections. 
Shivpal Singh Yadav, the brother of SP founder Mulayam Singh Yadav, also urged those party workers who were feeling humiliated to join the new front.
Shivpal, however, made it clear that he had no plans, as of now, to leave the party. 
When asked about the formation of the morcha by his upset uncle, Akhilesh Yadav shot back, "I am upset myself, where should I go?"
Asked specifically if he saw a BJP conspiracy, the SP chief said, "I will not say the BJP is behind this, but it raises suspicion if one sees the developments yesterday and today."
Yadav, who was a minister in the erstwhile Akhilesh Yadav government in the state, had been publicly airing his disenchantment with the party for last few days.
Shivpal had been saying that he will have to "think of something" if he was "not respectfully rehabilitated".
"I have now formed this front and I invite all those who are feeling suffocated in the SP to come and join hands with me," he told media persons in Lucknow.
Shivpal Yadav was removed as the state unit chief last year. Akhilesh Yadav blamed Shivpal Yadav of souring his relationship with his father Mulayam Singh Yadav and of conniving with Amar Singh, who he had expelled later.
Suhaildev Bharatiya Samaj Party (SBSP) President Om Prakash Rajbhar, an ally of the BJP and a Minister in the state government, met Shivpal late on Tuesday. 
Rajbhar has been daggers drawn with the ruling BJP in Uttar Pradesh. Shivpal Yadav has also said that his front would like to assimilate smaller regional forces.
Mulayam Singh had two days back publicly aired his disenchantment with his son and declared that there was no respect for him in the party he formed 25 years back. 
On Wednesday, Shivpal Yadav said he was pained at the humiliation heaped on his brother.
The Yadav leader, who enjoys considerable clout in Mainpuri, Etawah, Etah, Auraiyya, Kannauj and nearby regions, said the secular front would offer a "political alternative" in the state.
(With IANS inputs)